Пакет: htop (2.2.0-1 и други)
Връзки за htop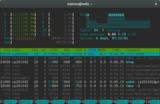 Ресурси за Debian:
Изтегляне на пакет-източник htop.
Отговорници:
Външни препратки:
Подобни пакети:
interactive processes viewer
Htop is an ncursed-based process viewer similar to top, but it allows one to scroll the list vertically and horizontally to see all processes and their full command lines.
Tasks related to processes (killing, renicing) can be done without entering their PIDs.
Други пакети, свързани с htop
Изтегляне на htop
Изтегляне за всички налични архитектури

| Архитектура | Версия | Големина на пакета | Големина след инсталиране | Файлове |
| --- | --- | --- | --- | --- |
| alpha (неофициална архитектура) | 2.2.0-1+b1 | 94,3 кБ | 258,0 кБ | [списък на файловете] |
| amd64 | 2.2.0-1+b1 | 90,7 кБ | 225,0 кБ | [списък на файловете] |
| arm64 | 2.2.0-1+b1 | 80,8 кБ | 212,0 кБ | [списък на файловете] |
| armel | 2.2.0-1+b1 | 80,6 кБ | 184,0 кБ | [списък на файловете] |
| armhf | 2.2.0-1+b1 | 80,2 кБ | 156,0 кБ | [списък на файловете] |
| hppa (неофициална архитектура) | 2.2.0-1+b1 | 88,1 кБ | 204,0 кБ | [списък на файловете] |
| hurd-i386 | 2.2.0-1+b1 | 96,0 кБ | 224,0 кБ | [списък на файловете] |
| i386 | 2.2.0-1+b1 | 95,9 кБ | 228,0 кБ | [списък на файловете] |
| kfreebsd-amd64 | 2.2.0-1+b1 | 78,2 кБ | 189,0 кБ | [списък на файловете] |
| kfreebsd-i386 | 2.2.0-1+b1 | 83,1 кБ | 192,0 кБ | [списък на файловете] |
| m68k (неофициална архитектура) | 2.2.0-1+b1 | 84,1 кБ | 204,0 кБ | [списък на файловете] |
| mips | 2.2.0-1+b1 | 85,4 кБ | 221,0 кБ | [списък на файловете] |
| mips64el | 2.2.0-1+b1 | 84,8 кБ | 247,0 кБ | [списък на файловете] |
| mipsel | 2.2.0-1+b1 | 85,8 кБ | 221,0 кБ | [списък на файловете] |
| powerpcspe (неофициална архитектура) | 2.2.0-1+b1 | 86,7 кБ | 244,0 кБ | [списък на файловете] |
| ppc64 (неофициална архитектура) | 2.2.0-1+b1 | 88,2 кБ | 312,0 кБ | [списък на файловете] |
| ppc64el | 2.2.0-1+b1 | 88,0 кБ | 248,0 кБ | [списък на файловете] |
| riscv64 (неофициална архитектура) | 2.2.0-1+b1 | 82,4 кБ | 186,0 кБ | [списък на файловете] |
| s390x | 2.2.0-1+b1 | 86,7 кБ | 236,0 кБ | [списък на файловете] |
| sh4 (неофициална архитектура) | 2.2.0-1+b1 | 97,5 кБ | 192,0 кБ | [списък на файловете] |
| sparc64 (неофициална архитектура) | 2.2.0-1+b1 | 79,7 кБ | 221,0 кБ | [списък на файловете] |
| x32 (неофициална архитектура) | 2.2.0-1+b1 | 89,8 кБ | 201,0 кБ | [списък на файловете] |