Package: icewm-lite (1.6.5-1 and others)
Links for icewm-lite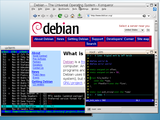 Debian Resources:
Download Source Package icewm:
Maintainer:
Similar packages:
transitional package for icewm
IceWm is a Window Manager for X Window System. It is fast and memory-efficient, and it provides different looks and some desktop-like functionality.
This package only exists to maintain compatibility to system setups that relied on the former icewm-lite package. It can be safely removed once the system dependencies has been adjusted.
Other Packages Related to icewm-lite
dep:

icewm (= 1.4.3.0~pre-20181030-2) [powerpcspe]

wonderful Win95-OS/2-Motif-like window manager

dep:

icewm (= 1.6.2+git20190929-1) [m68k, sh4, x32]

dep:

icewm (= 1.6.5-1) [not m68k, powerpcspe, sh4, x32]

dep:

icewm-common (= 1.4.3.0~pre-20181030-2) [powerpcspe]

wonderful Win95-OS/2-Motif-like window manager

dep:

icewm-common (= 1.6.2+git20190929-1) [m68k, sh4, x32]

dep:

icewm-common (= 1.6.5-1) [not m68k, powerpcspe, sh4, x32]