Pakket: transmission-qt (2.94-2 en anderen)
Verwijzigingen voor transmission-qt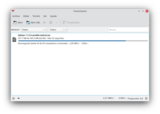 Debian bronnen:
Het bronpakket transmission downloaden:
Beheerders:
Externe bronnen:
Vergelijkbare pakketten:
lightweight BitTorrent client (Qt interface)
Transmission is a set of lightweight BitTorrent clients (in GUI, CLI and daemon form). All its incarnations feature a very simple, intuitive interface on top on an efficient, cross-platform back-end.
This package contains the Qt stand-alone client.
Andere aan transmission-qt gerelateerde pakketten
rec:

xdg-utils

desktop integration utilities from freedesktop.org
transmission-qt downloaden
Pakket downloaden voor alle beschikbare platforms

| Platform | Versie | Pakketgrootte | Geïnstalleerde grootte | Bestanden |
| --- | --- | --- | --- | --- |
| alpha (unofficial port) | 2.94-2 | 669,2 kB | 2.782,0 kB | [overzicht] |
| amd64 | 2.94-2 | 660,3 kB | 2.316,0 kB | [overzicht] |
| arm64 | 2.94-2 | 614,0 kB | 2.328,0 kB | [overzicht] |
| armel | 2.94-2 | 573,8 kB | 2.065,0 kB | [overzicht] |
| armhf | 2.94-2 | 587,1 kB | 1.777,0 kB | [overzicht] |
| hppa (unofficial port) | 2.94-2 | 645,1 kB | 2.409,0 kB | [overzicht] |
| i386 | 2.94-2 | 712,5 kB | 2.445,0 kB | [overzicht] |
| m68k (unofficial port) | 2.94-2 | 653,8 kB | 2.389,0 kB | [overzicht] |
| mips | 2.94-2 | 635,7 kB | 2.712,0 kB | [overzicht] |
| mips64el | 2.94-2 | 639,6 kB | 2.827,0 kB | [overzicht] |
| mipsel | 2.94-2 | 644,2 kB | 2.712,0 kB | [overzicht] |
| powerpcspe (unofficial port) | 2.94-1+b2 | 612,0 kB | 2.462,0 kB | [overzicht] |
| ppc64 (unofficial port) | 2.94-2 | 666,4 kB | 2.912,0 kB | [overzicht] |
| ppc64el | 2.94-2 | 671,0 kB | 2.784,0 kB | [overzicht] |
| riscv64 (unofficial port) | 2.94-2 | 641,8 kB | 2.148,0 kB | [overzicht] |
| s390x | 2.94-2 | 617,0 kB | 2.472,0 kB | [overzicht] |
| sh4 (unofficial port) | 2.94-2 | 743,6 kB | 2.269,0 kB | [overzicht] |
| sparc64 (unofficial port) | 2.94-2 | 566,3 kB | 2.346,0 kB | [overzicht] |
| x32 (unofficial port) | 2.94-2 | 661,0 kB | 2.217,0 kB | [overzicht] |