Paketti: transmission-qt (2.94-2 ja muut)
Links for transmission-qt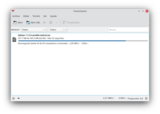 Debian-palvelut:
Imuroi lähdekoodipaketti transmission:
Ylläpitäjät:
External Resources:
Samankaltaisia paketteja:
lightweight BitTorrent client (Qt interface)
Transmission is a set of lightweight BitTorrent clients (in GUI, CLI and daemon form). All its incarnations feature a very simple, intuitive interface on top on an efficient, cross-platform back-end.
This package contains the Qt stand-alone client.
Muut pakettiin transmission-qt liittyvät paketit
rec:

xdg-utils

desktop integration utilities from freedesktop.org
Imuroi transmission-qt
Imurointi kaikille saataville arkkitehtuureille

| Arkkitehtuuri | Versio | Paketin koko | Koko asennettuna | Tiedostot |
| --- | --- | --- | --- | --- |
| alpha (epävirallinen siirros) | 2.94-2 | 669.2 kt | 2,782.0 kt | [tiedostoluettelo] |
| amd64 | 2.94-2 | 660.3 kt | 2,316.0 kt | [tiedostoluettelo] |
| arm64 | 2.94-2 | 614.0 kt | 2,328.0 kt | [tiedostoluettelo] |
| armel | 2.94-2 | 573.8 kt | 2,065.0 kt | [tiedostoluettelo] |
| armhf | 2.94-2 | 587.1 kt | 1,777.0 kt | [tiedostoluettelo] |
| hppa (epävirallinen siirros) | 2.94-2 | 645.1 kt | 2,409.0 kt | [tiedostoluettelo] |
| i386 | 2.94-2 | 712.5 kt | 2,445.0 kt | [tiedostoluettelo] |
| m68k (epävirallinen siirros) | 2.94-2 | 653.8 kt | 2,389.0 kt | [tiedostoluettelo] |
| mips | 2.94-2 | 635.7 kt | 2,712.0 kt | [tiedostoluettelo] |
| mips64el | 2.94-2 | 639.6 kt | 2,827.0 kt | [tiedostoluettelo] |
| mipsel | 2.94-2 | 644.2 kt | 2,712.0 kt | [tiedostoluettelo] |
| powerpcspe (epävirallinen siirros) | 2.94-1+b2 | 612.0 kt | 2,462.0 kt | [tiedostoluettelo] |
| ppc64 (epävirallinen siirros) | 2.94-2 | 666.4 kt | 2,912.0 kt | [tiedostoluettelo] |
| ppc64el | 2.94-2 | 671.0 kt | 2,784.0 kt | [tiedostoluettelo] |
| riscv64 (epävirallinen siirros) | 2.94-2 | 641.8 kt | 2,148.0 kt | [tiedostoluettelo] |
| s390x | 2.94-2 | 617.0 kt | 2,472.0 kt | [tiedostoluettelo] |
| sh4 (epävirallinen siirros) | 2.94-2 | 743.6 kt | 2,269.0 kt | [tiedostoluettelo] |
| sparc64 (epävirallinen siirros) | 2.94-2 | 566.3 kt | 2,346.0 kt | [tiedostoluettelo] |
| x32 (epävirallinen siirros) | 2.94-2 | 661.0 kt | 2,217.0 kt | [tiedostoluettelo] |