Pakket: mrtg-ping-probe (2.2.0-3)
Verwijzigingen voor mrtg-ping-probe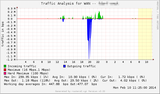 Debian bronnen:
Beheerder:
Vergelijkbare pakketten:
Ping module for Multi Router Traffic Grapher
mrtg-ping-probe is a ping probe for MRTG 2.x. It is used to monitor the round trip time and packet loss to networked devices. MRTG uses its output to generate graphs visualizing minimum and maximum round trip times or packet loss.
Andere aan mrtg-ping-probe gerelateerde pakketten
dep:

iputils-ping

Hulpmiddelen om de bereikbaarheid van netwerk-hosts te controleren

of ping

virtueel pakket geboden door inetutils-ping, iputils-ping

dep:

mrtg (>= 2)

Multi Router Traffic Grapher

dep:

perl

Larry Wall's Practical Extraction and Report Language