Paquet : mrtg-ping-probe (2.2.0-3)
Liens pour mrtg-ping-probe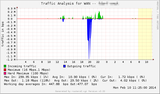 Ressources Debian :
Télécharger le paquet source mrtg-ping-probe :
Responsable :
Paquets similaires :
Ping module for Multi Router Traffic Grapher
mrtg-ping-probe is a ping probe for MRTG 2.x. It is used to monitor the round trip time and packet loss to networked devices. MRTG uses its output to generate graphs visualizing minimum and maximum round trip times or packet loss.
Autres paquets associés à mrtg-ping-probe
dep:

iputils-ping

Outils pour tester l'accessibilité de noeuds réseaux

ou ping

paquet virtuel fourni par inetutils-ping, iputils-ping

dep:

mrtg (>= 2)

Multi Router Traffic Grapher

dep:

perl

langage de rapports et d'extractions pratiques de Larry Wall
Télécharger mrtg-ping-probe
Télécharger pour toutes les architectures proposées

| Architecture | Taille du paquet | Espace occupé une fois installé | Fichiers |
| --- | --- | --- | --- |
| all | 26,2 ko | 52,0 ko | [liste des fichiers] |