Пакет: desktop-base (10.0.2)
Връзки за desktop-base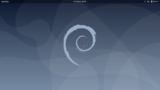 Ресурси за Debian:
Изтегляне на пакет-източник desktop-base.
Отговорници:
Външни препратки:
Подобни пакети:
common files for the Debian Desktop
This package contains various miscellaneous files which are used by Debian Desktop installations. Currently, it provides some Debian-related artwork and themes, .desktop files containing links to Debian related material (suitable for placement on a user's desktop), and other common files between the available desktop environments such as GNOME and KDE.
Други пакети, свързани с desktop-base
rec:

plymouth-label

boot animation, logger and I/O multiplexer - label control
sug:

gnome

Full GNOME Desktop Environment, with extra components

или kde-standard

KDE Plasma Desktop and standard set of applications

или xfce4

Meta-package for the Xfce Lightweight Desktop Environment

или wmaker

NeXTSTEP-like window manager for X
Изтегляне на desktop-base
Изтегляне за всички налични архитектури

| Архитектура | Големина на пакета | Големина след инсталиране | Файлове |
| --- | --- | --- | --- |
| all | 3 091,5 кБ | 10 867,0 кБ | [списък на файловете] |