Пакет: adminer (4.7.9-1)
Връзки за adminer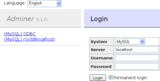 Ресурси за Debian:
Изтегляне на пакет-източник adminer.
Отговорник:
Външни препратки:
Подобни пакети:
Web-based database administration tool
Adminer (formerly phpMinAdmin) is a full-featured database management tool written in PHP. Conversely to phpMyAdmin, it is a light weight application with these priorities in order: security, user experience, performance, feature set and size.
Други пакети, свързани с adminer
Изтегляне на adminer
Изтегляне за всички налични архитектури

| Архитектура | Големина на пакета | Големина след инсталиране | Файлове |
| --- | --- | --- | --- |
| all | 774,9 кБ | 2 899,0 кБ | [списък на файловете] |