套件:whitedune(0.30.10-2.2)
whitedune 的相關連結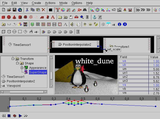 Debian 的資源:
維護小組:
外部的資源:
相似套件:
graphical VRML97/X3D viewer, editor, 3D modeller and animation tool
Whitedune can read VRML97 files, display and let the user change the scenegraph and all fields of all nodes.
The most powerful 3D modelling features of whitedune support the VRML97 Amendment1 style NURBS nodes and Superformula based PROTOs. This is mainly convenient for building some rounded shapes.
Whitedune supports some 3D inputdevices like joysticks, gamepads or all devices supported via the Xinput protocol and also quadbuffer stereo visuals.
其他與 whitedune 有關的套件
rec:

xfonts-100dpi

100 dpi fonts for X
100 dpi fonts for X (transcoded from ISO 10646-1)

或者 xfonts-75dpi

75 dpi fonts for X
75 dpi fonts for X (transcoded from ISO 10646-1)
下載 whitedune
下載可用於所有硬體架構的

| 硬體架構 | 套件大小 | 安裝後大小 | 檔案 |
| --- | --- | --- | --- |
| alpha (非官方移植版) | 1,264。4 kB | 5,926。0 kB | [檔案列表] |
| amd64 | 1,402。4 kB | 6,251。0 kB | [檔案列表] |
| arm64 | 1,237。7 kB | 5,974。0 kB | [檔案列表] |
| armel | 1,087。5 kB | 4,566。0 kB | [檔案列表] |
| armhf | 1,110。3 kB | 3,706。0 kB | [檔案列表] |
| hppa (非官方移植版) | 1,256。6 kB | 5,550。0 kB | [檔案列表] |
| i386 | 1,419。5 kB | 5,625。0 kB | [檔案列表] |
| m68k (非官方移植版) | 1,025。0 kB | 4,600。0 kB | [檔案列表] |
| mips64el | 1,186。0 kB | 8,444。0 kB | [檔案列表] |
| mipsel | 1,165。7 kB | 6,403。0 kB | [檔案列表] |
| powerpcspe (非官方移植版) | 1,135。5 kB | 4,873。0 kB | [檔案列表] |
| ppc64 (非官方移植版) | 1,358。7 kB | 7,861。0 kB | [檔案列表] |
| ppc64el | 1,378。3 kB | 7,214。0 kB | [檔案列表] |
| riscv64 (非官方移植版) | 1,281。8 kB | 5,539。0 kB | [檔案列表] |
| s390x | 1,206。4 kB | 6,207。0 kB | [檔案列表] |
| sh4 (非官方移植版) | 1,216。8 kB | 4,192。0 kB | [檔案列表] |
| sparc64 (非官方移植版) | 1,107。9 kB | 6,121。0 kB | [檔案列表] |
| x32 (非官方移植版) | 1,281。4 kB | 4,687。0 kB | [檔案列表] |