套件:evolution(3.12.9~git20141130.241663-1+deb8u1) [security]
evolution 的相關連結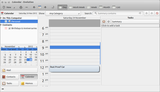 Debian 的資源:
維護小組:
外部的資源:
相似套件:
groupware suite with mail client and organizer
Evolution is a groupware suite which integrates mail, calendar, address book, to-do list and memo tools.
Additional features include integration with Exchange servers, newsgroup client, LDAP support and web calendars
Evolution is a graphical application that is part of GNOME, and is distributed by Novell, Inc.
See http://projects.gnome.org/evolution/ for more information.
The following plugins belonging to the "base" set are included.

 - calendar-file
 - calendar-http
 - itip-formatter
 - default-source
 - addressbook-file
 - mark-all-read
 - publish-calendar
 - caldav
 - imap-features
 - google-account-setup
 - webdav-account-setup
 - calendar-weather
 - sa-junk-plugin
 - bogo-junk-plugin