套件:bareos-bat(16.2.6-5)
bareos-bat 的相關連結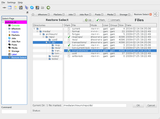 Debian 的資源:
維護小組:
外部的資源:
相似套件:
Backup Archiving Recovery Open Sourced - Bareos Admin Tool (BAT)
Bareos is a set of programs to manage backup, recovery and verification of data across a network of computers of different kinds.
It is efficient and relatively easy to use, while offering many advanced storage management features that make it easy to find and recover lost or damaged files. Due to its modular design, Bareos is scalable from small single computer systems to networks of hundreds of machines.
Bareos Admin Tool (BAT), a graphical interface for Bareos.
其他與 bareos-bat 有關的套件
sug:

kde

套件暫時不可用

或者 gnome-desktop-environment

套件暫時不可用