软件包:gtk2-engines-magicchicken(1.1.1-9)
gtk2-engines-magicchicken 的相关链接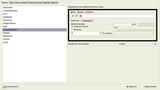 Debian 的资源:
维护者:
相似软件包:
Magic Chicken themes for GTK+ 2.x
This package contains themes which allow you to configure the look of programs using GTK+ 2.x. The programs need no modification to use themes; the support is built-in to GTK+ 2.x.
Magic Chicken is a theme which borrows much in terms of looks from the default Gtk+ 2.x theme, as well as from ThinIce and other funky themes.
The provided themes are: MagicChicken, CortlandChicken and OkayishChicken.
Author: James Cape <jcape@ignore-your.tv>
其他与 gtk2-engines-magicchicken 有关的软件包