软件包:freecraft(1:1.20-1.1)
freecraft 的相关链接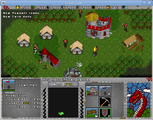 Debian 的资源:
维护者:
相似软件包:
Realtime fantasy strategy game for Unix and X
FreeCraft is a clone of the realtime fantasy strategy game WarCraft II from Blizzard Entertainment, although it could be used to build other games similar to C&C or AoE. It is nearly feature complete compared to the original game, and includes a handful of Neat New Features, such as queuing peon/fighter production, finding out idle workers, and a completely new AI. It also has network connectivity for up to 16 players.
FreeCraft is not maintained by the upstream anymore, this is the last stable version of FreeCraft.
This version is compiled with some of the possible options, and thus has gzip, bunzip2 and SDL support (the last one only for i386 arches). The sound options will depend on your personal election on SDL packages.