软件包: fotowall (0.9-8)
fotowall 的相关链接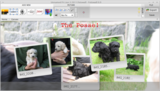 Debian 的资源:
维护者:
外部的资源:
相似软件包:
simple application for creating collages and compositions
FotoWall is a creative tool that allows you to layout your photos or pictures in a personal way.
You can add pictues, then resize, move, change colors, text, shadows, etc. to create your composition or collage.
The focus of this application is on simplicity.