软件包: otrs2 (3.3.18-1~deb7u1) [security]
otrs2 的相关链接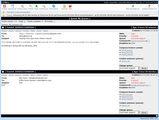 Debian 的资源:
维护小组:
外部的资源:
相似软件包:
Open Ticket Request System
OTRS is an Open source Ticket Request System (also well known as trouble ticket system) with many features to manage customer telephone calls and e-mails. The system is built to allow your support, sales, pre-sales, billing, internal IT, helpdesk, etc. department to react quickly to inbound inquiries. For a detailed documentation see package otrs-doc-en or otrs-doc-de.
This package ships version 3 of OTRS.