[ squeeze ]
软件包: kazehakase (0.5.8-4)
kazehakase 的相关链接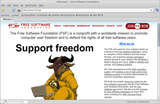 Debian 的资源:
维护者:
外部的资源:
相似软件包:
GTK+-based web browser that allows pluggable rendering engines
Kazehakase is a web browser that can use either Gecko or WebKit as its rendering engine.
Kazehakase has a toolbar with rss/rdf menus, rss/rdf viewer, normal bookmarks, search window for google. These are to be available as plugins.