[ squeeze ]
软件包: canorus (0.7-2)
canorus 的相关链接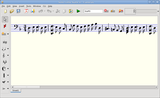 Debian 的资源:
维护者:
外部的资源:
相似软件包:
graphical music score editor
Canorus is a graphical music score editor written for the Qt4 toolkit. It is a sequel of the well-known music score editor for Linux, NoteEdit. Canorus uses LilyPond for music engraving to achieve a very high quality in the resulting documents.
Canorus offers a number of import and export filters for LilyPond, MusicXML, Midi, NoteEdit and others.
其他与 canorus 有关的软件包
rec:

lilypond

A program for typesetting sheet music
sug:

timidity

Software sound renderer (MIDI sequencer, MOD player)

或者 fluidsynth

Real-time MIDI software synthesizer
下载 canorus
下载可用于所有硬件架构的

| 硬件架构 | 软件包大小 | 安装后大小 | 文件 |
| --- | --- | --- | --- |
| amd64 | 948.8 kB | 2,796.0 kB | [文件列表] |
| armel | 876.5 kB | 2,796.0 kB | [文件列表] |
| i386 | 918.2 kB | 2,592.0 kB | [文件列表] |
| ia64 | 1,207.1 kB | 5,756.0 kB | [文件列表] |
| mips | 877.3 kB | 4,176.0 kB | [文件列表] |
| mipsel | 858.9 kB | 4,176.0 kB | [文件列表] |
| powerpc | 933.5 kB | 2,900.0 kB | [文件列表] |
| s390 | 912.4 kB | 2,956.0 kB | [文件列表] |
| sparc | 1,040.2 kB | 3,616.0 kB | [文件列表] |