软件包: gtk2.0-examples (2.20.1-2)
gtk2.0-examples 的相关链接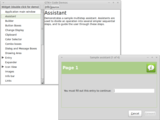 Debian 的资源:
维护小组:
外部的资源:
相似软件包:
Examples files for the GTK+ 2.0
The GTK+ is a multi-platform toolkit for creating graphical user interfaces. Offering a complete set of widgets, the GTK+ is suitable for projects ranging from small one-off tools to complete application suites.
This package contains the examples files and a demonstration program for the GTK+-2.0.
其他与 gtk2.0-examples 有关的软件包