Package: opj2dat (20080225-2.1)
Links for opj2dat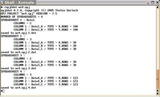 Debian Resources:
Download Source Package liborigin:
Maintainers:
External Resources:
Similar packages:
OriginLab Origin project files to data files converter
opj2dat is a program build on the liborigin library and converts project files from the OriginLab Origin plotting program to data files, readable by most other plotting programs. OriginLab Origin provides extensive scientific graphing and data analysis capabilities and includes several new tools that simplify common operations.
See http://www.originlab.com for more informations about OriginLab Origin.
Other Packages Related to opj2dat