Package: kraft (0.45-2)
Links for kraft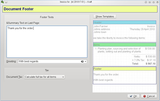 Debian Resources:
Download Source Package kraft:
Maintainers:
External Resources:
Similar packages:
small business-management application
Kraft is an application for people who operate a small business. Kraft helps to write business communication documents like offers and invoices.
Kraft is not a program specialised on a certain trade or craft. Instead Kraft covers the practical issues of a small business and helps through ease of use yet powerful features to deal with most of the office jobs effectively.
Other Packages Related to kraft
Download kraft
Download for all available architectures

| Architecture | Package Size | Installed Size | Files |
| --- | --- | --- | --- |
| amd64 | 1,238.5 kB | 3,601.0 kB | [list of files] |
| armel | 1,148.2 kB | 3,305.0 kB | [list of files] |
| armhf | 1,134.7 kB | 2,953.0 kB | [list of files] |
| i386 | 1,215.6 kB | 3,349.0 kB | [list of files] |
| ia64 | 1,407.4 kB | 5,825.0 kB | [list of files] |
| kfreebsd-amd64 | 1,239.9 kB | 3,223.0 kB | [list of files] |
| kfreebsd-i386 | 1,213.9 kB | 2,971.0 kB | [list of files] |
| mips | 1,149.3 kB | 4,196.0 kB | [list of files] |
| mipsel | 1,130.8 kB | 4,195.0 kB | [list of files] |
| powerpc | 1,226.1 kB | 3,720.0 kB | [list of files] |
| s390 | 1,212.1 kB | 3,730.0 kB | [list of files] |
| s390x | 1,277.3 kB | 4,150.0 kB | [list of files] |
| sparc | 1,194.5 kB | 3,706.0 kB | [list of files] |