Package: gksu (2.0.2-6)
Links for gksu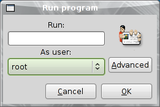 Debian Resources:
Download Source Package gksu:
Maintainers:
External Resources:
Similar packages:
graphical frontend to su
gksu is a Gtk+ frontend to /bin/su. It supports login shells and preserving environment when acting as a su frontend. It is useful to menu items or other graphical programs that need to ask a user's password to run another program as another user.
Other Packages Related to gksu