Package: xymon-client (4.3.30-1)
Links for xymon-client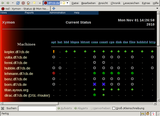 Debian Resources:
Download Source Package xymon:
Maintainers:
External Resources:
Similar packages:
client for the Xymon network monitor
Client data collection package for Xymon (previously known as Hobbit).
This gathers statistics and data from a single system and reports it to the Xymon monitor. You should install this package on all systems if you have a Xymon server running.
Additional checks are available in the package hobbit-plugins.
Other Packages Related to xymon-client
sug:

xymon-plugins

Package not available
plugins for the Xymon network monitor
Download xymon-client
Download for all available architectures

| Architecture | Package Size | Installed Size | Files |
| --- | --- | --- | --- |
| alpha (unofficial port) | 303.2 kB | 1,419.0 kB | [list of files] |
| amd64 | 289.7 kB | 1,219.0 kB | [list of files] |
| arm64 | 278.0 kB | 1,199.0 kB | [list of files] |
| armel | 256.4 kB | 1,029.0 kB | [list of files] |
| armhf | 259.5 kB | 857.0 kB | [list of files] |
| hppa (unofficial port) | 271.6 kB | 1,107.0 kB | [list of files] |
| i386 | 291.2 kB | 1,245.0 kB | [list of files] |
| ia64 (unofficial port) | 312.0 kB | 1,957.0 kB | [list of files] |
| m68k (unofficial port) | 282.7 kB | 1,113.0 kB | [list of files] |
| mips64el | 282.2 kB | 1,338.0 kB | [list of files] |
| mipsel | 282.7 kB | 1,247.0 kB | [list of files] |
| ppc64 (unofficial port) | 294.1 kB | 1,723.0 kB | [list of files] |
| ppc64el | 299.7 kB | 1,723.0 kB | [list of files] |
| riscv64 (unofficial port) | 273.7 kB | 1,014.0 kB | [list of files] |
| s390x | 279.7 kB | 1,247.0 kB | [list of files] |
| sh4 (unofficial port) | 280.5 kB | 1,085.0 kB | [list of files] |
| sparc64 (unofficial port) | 258.9 kB | 1,206.0 kB | [list of files] |
| x32 (unofficial port) | 289.4 kB | 1,133.0 kB | [list of files] |