Package: xppaut (6.11b+1.dfsg-1 and others)
Links for xppaut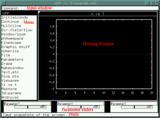 Debian Resources:
Download Source Package xppaut:
Maintainers:
External Resources:
Similar packages:
Phase Plane Plus Auto: Solves many kinds of equations
XPPAUT is a tool for solving

   * differential equations,
   * difference equations,
   * delay equations,
   * functional equations,
   * boundary value problems, and
   * stochastic equations.

The code brings together a number of useful algorithms and is extremely portable. All the graphics and interface are written completely in Xlib which explains the somewhat idiosyncratic and primitive widgets interface.
Other Packages Related to xppaut
dep:

libc6.1 (>= 2.7) [alpha]

GNU C Library: Shared libraries
also a virtual package provided by libc6.1-udeb

dep:

libx11-6

X11 client-side library
Download xppaut
Download for all available architectures

| Architecture | Version | Package Size | Installed Size | Files |
| --- | --- | --- | --- | --- |
| alpha (unofficial port) | 6.11b+1.dfsg-1 | 4,134.7 kB | 6,087.0 kB | [list of files] |
| amd64 | 6.11b+1.dfsg-1+b2 | 3,701.0 kB | 6,031.0 kB | [list of files] |
| arm64 | 6.11b+1.dfsg-1+b2 | 3,620.7 kB | 6,001.0 kB | [list of files] |
| armel | 6.11b+1.dfsg-1+b2 | 3,703.6 kB | 6,199.0 kB | [list of files] |
| armhf | 6.11b+1.dfsg-1+b2 | 3,663.1 kB | 5,737.0 kB | [list of files] |
| hppa (unofficial port) | 6.11b+1.dfsg-1 | 3,649.3 kB | 5,967.0 kB | [list of files] |
| i386 | 6.11b+1.dfsg-1+b2 | 3,712.9 kB | 6,184.0 kB | [list of files] |
| m68k (unofficial port) | 6.11b+1.dfsg-1 | 3,995.6 kB | 5,678.0 kB | [list of files] |
| mips64el | 6.11b+1.dfsg-1+b2 | 3,672.5 kB | 6,297.0 kB | [list of files] |
| mipsel | 6.11b+1.dfsg-1+b2 | 3,678.7 kB | 6,316.0 kB | [list of files] |
| powerpcspe (unofficial port) | 6.11b+1.dfsg-1 | 3,632.3 kB | 6,030.0 kB | [list of files] |
| ppc64 (unofficial port) | 6.11b+1.dfsg-1+b1 | 3,629.1 kB | 6,143.0 kB | [list of files] |
| ppc64el | 6.11b+1.dfsg-1+b2 | 3,642.9 kB | 6,155.0 kB | [list of files] |
| riscv64 (unofficial port) | 6.11b+1.dfsg-1 | 3,696.7 kB | 5,842.0 kB | [list of files] |
| s390x | 6.11b+1.dfsg-1+b2 | 3,711.1 kB | 6,359.0 kB | [list of files] |
| sh4 (unofficial port) | 6.11b+1.dfsg-1 | 4,085.0 kB | 5,652.0 kB | [list of files] |
| sparc64 (unofficial port) | 6.11b+1.dfsg-1 | 4,070.7 kB | 5,822.0 kB | [list of files] |
| x32 (unofficial port) | 6.11b+1.dfsg-1 | 4,109.0 kB | 5,886.0 kB | [list of files] |