Package: wm2 (4+svn20090216-4 and others)
Links for wm2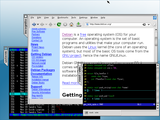 Debian Resources:
Download Source Package wm2:
Maintainer:
External Resources:
Similar packages:
small, unconfigurable window manager
wm2 is a window manager for X. It provides an unusual style of window decoration and as little functionality as Chris Cannam feels comfortable with in a window manager. wm2 is not configurable, except by editing the source and recompiling the code, and is really intended for people who don't particularly want their window manager to be too friendly.
Other Packages Related to wm2
dep:

libc6.1 (>= 2.15) [alpha]

GNU C Library: Shared libraries
also a virtual package provided by libc6.1-udeb

dep:

libc6.1 (>= 2.28) [ia64]

dep:

libgcc1 (>= 1:3.0) [not armel, armhf, hppa, ia64, m68k]

Package not available

dep:

libgcc1 (>= 1:3.5) [armel, armhf]

dep:

libgcc1 (>= 1:4.2) [ia64]

dep:

libgcc2 (>= 4.2.1) [m68k]

Package not available

dep:

libgcc4 (>= 4.1.1) [hppa]

Package not available

dep:

libstdc++6 [riscv64]

GNU Standard C++ Library v3

dep:

libstdc++6 (>= 5) [not riscv64]

dep:

libunwind8 [ia64]

library to determine the call-chain of a program - runtime

dep:

libx11-6

X11 client-side library

dep:

libxext6

X11 miscellaneous extension library
rec:

xterm

X terminal emulator
virtual package provided by cool-retro-term, deepin-terminal, eterm, gnome-console, gnome-terminal, kitty, konsole, lilyterm, lxterminal, mate-terminal, mlterm, mlterm-tiny, pterm, qterminal, rxvt-unicode, sakura, stterm, terminator, terminology, termit, tilix, xfce4-terminal, xiterm+thai, xterm