Package: rxvt-unicode (9.31-1)
Links for rxvt-unicode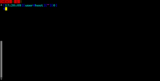 Debian Resources:
Download Source Package rxvt-unicode:
Maintainers:
External Resources:
Similar packages:
RXVT-like terminal emulator with Unicode and 256-color support
rxvt-unicode is a modern, Unicode-aware color xterm replacement that uses significantly less memory than a conventional xterm and many other Unicode supporting terminal emulators.
It supports using multiple fonts at the same time, including Xft fonts, and client-server technology to reduce memory consumption when using multiple windows.
This package is configured with 256-color support, and TERM set to "rxvt-unicode-256color". Any other systems you log into must have this terminfo entry installed!
Other Packages Related to rxvt-unicode
Download rxvt-unicode
Download for all available architectures

| Architecture | Package Size | Installed Size | Files |
| --- | --- | --- | --- |
| alpha (unofficial port) | 773.3 kB | 3,763.0 kB | [list of files] |
| amd64 | 780.7 kB | 3,433.0 kB | [list of files] |
| arm64 | 743.6 kB | 3,497.0 kB | [list of files] |
| armel | 719.2 kB | 3,153.0 kB | [list of files] |
| armhf | 718.5 kB | 2,881.0 kB | [list of files] |
| hppa (unofficial port) | 759.1 kB | 3,327.0 kB | [list of files] |
| i386 | 779.3 kB | 3,409.0 kB | [list of files] |
| ia64 (unofficial port) | 826.1 kB | 4,810.0 kB | [list of files] |
| m68k (unofficial port) | 769.5 kB | 3,374.0 kB | [list of files] |
| mips64el | 749.6 kB | 3,833.0 kB | [list of files] |
| ppc64 (unofficial port) | 775.7 kB | 3,945.0 kB | [list of files] |
| ppc64el | 776.5 kB | 3,881.0 kB | [list of files] |
| riscv64 | 765.5 kB | 3,265.0 kB | [list of files] |
| s390x | 765.2 kB | 3,545.0 kB | [list of files] |
| sh4 (unofficial port) | 788.9 kB | 3,410.0 kB | [list of files] |
| sparc64 (unofficial port) | 731.1 kB | 6,791.0 kB | [list of files] |
| x32 (unofficial port) | 778.7 kB | 3,260.0 kB | [list of files] |