Package: idesk (0.7.5-6 and others)
Links for idesk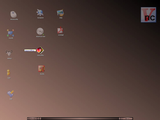 Debian Resources:
Download Source Package idesk:
Maintainer:
External Resources:
Similar packages:
program to show icons on the desktop
Idesk displays icons with a short description on the desktop and gives shortcuts to launch any X app.
The icons can be resized, use tooltip and has transparency with other nice image effects. It can use many images types formats how PNG, JPG, GIF, XPM, etc. Idesk also allows the binding of different actions to every mouse button.
Other Packages Related to idesk
dep:

libc6.1 (>= 2.15) [alpha]

GNU C Library: Shared libraries
also a virtual package provided by libc6.1-udeb

dep:

libgcc1 (>= 1:3.0) [not alpha, armel, armhf, hppa, m68k, sh4, sparc64, x32]

GCC support library (dependency package)

dep:

libgcc1 (>= 1:3.5) [armel, armhf]

dep:

libgcc1 (>= 1:4.1.1) [alpha, sh4, sparc64, x32]

dep:

libgcc2 (>= 4.2.1) [m68k]

Package not available

dep:

libgcc4 (>= 4.1.1) [hppa]

Package not available

dep:

libimlib2 (>= 1.4.5)

image loading, rendering, saving library

dep:

libsm6 [hppa]

X11 Session Management library

dep:

libstdc++6 [riscv64]

GNU Standard C++ Library v3

dep:

libstdc++6 (>= 5.2) [not riscv64]

dep:

libx11-6

X11 client-side library

dep:

libxft2 (>> 2.1.1)

FreeType-based font drawing library for X