Package: wireshark-qt (3.0.3-1 and others)
Links for wireshark-qt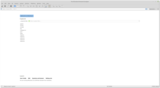 Debian Resources:
Download Source Package wireshark:
Maintainer:
External Resources:
Similar packages:
network traffic analyzer - Qt version
Wireshark is a network "sniffer" - a tool that captures and analyzes packets off the wire. Wireshark can decode too many protocols to list here.
This package provides the Qt version of Wireshark.
Other Packages Related to wireshark-qt
Qt 5 Multimedia module plugins
Download wireshark-qt
Download for all available architectures

| Architecture | Version | Package Size | Installed Size | Files |
| --- | --- | --- | --- | --- |
| alpha (unofficial port) | 2.6.10-1 | 3,446.6 kB | 10,429.0 kB | [list of files] |
| amd64 | 3.0.3-1 | 3,528.8 kB | 8,030.0 kB | [list of files] |
| arm64 | 3.0.3-1 | 3,356.9 kB | 8,010.0 kB | [list of files] |
| armel | 3.0.3-1 | 3,282.9 kB | 7,188.0 kB | [list of files] |
| armhf | 3.0.3-1 | 3,315.2 kB | 6,044.0 kB | [list of files] |
| hppa (unofficial port) | 2.6.10-1 | 3,483.9 kB | 9,791.0 kB | [list of files] |
| i386 | 3.0.3-1 | 3,657.8 kB | 8,280.0 kB | [list of files] |
| m68k (unofficial port) | 3.0.3-1 | 3,615.2 kB | 8,720.0 kB | [list of files] |
| mips64el | 3.0.3-1 | 3,372.8 kB | 10,459.0 kB | [list of files] |
| mipsel | 3.0.3-1 | 3,378.6 kB | 9,883.0 kB | [list of files] |
| powerpcspe (unofficial port) | 2.4.6-1 | 3,249.5 kB | 8,717.0 kB | [list of files] |
| ppc64 (unofficial port) | 2.6.10-1 | 3,404.0 kB | 10,639.0 kB | [list of files] |
| ppc64el | 3.0.3-1 | 3,490.6 kB | 9,626.0 kB | [list of files] |
| riscv64 (unofficial port) | 3.0.3-1 | 3,525.4 kB | 7,795.0 kB | [list of files] |
| s390x | 3.0.3-1 | 3,395.3 kB | 8,774.0 kB | [list of files] |
| sh4 (unofficial port) | 2.4.6-1 | 3,603.9 kB | 8,068.0 kB | [list of files] |
| sparc64 (unofficial port) | 2.6.10-1 | 3,152.5 kB | 8,852.0 kB | [list of files] |
| x32 (unofficial port) | 2.4.6-1 | 3,317.8 kB | 7,628.0 kB | [list of files] |