Package: iceape (2.7.12-1 and others) [debports]
Links for iceape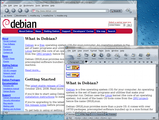 Debian Resources:
Download Source Package :
Not found
Maintainers:
Similar packages:
The Iceape Internet Suite
The Iceape Internet Suite is an unbranded Seamonkey Internet Suite suitable for free distribution. The Seamonkey Internet Suite is a set of Internet oriented applications. It is the continuity of the Mozilla Suite after it has been abandoned in favor of Firefox and Thunderbird.
The Iceape Internet Suite consists of:

 - an Internet browser (Iceape Navigator)
 - an HTML WYSIWYG editor (Iceape Composer)
 - a Mail and News client (Iceape Mail & Newsgroups)
 - an Address Book (Iceape Address Book)
 - an IRC client (Chatzilla)

Iceape Navigator is a sophisticated graphical World-Wide-Web browser, with a large number of various browser features like support for HTML 4.0, CSS 2, JavaScript, etc. It also features tabbed browsing, popup blocking, and many others options.
Iceape Composer is a WYSIWYG HTML editor that lets you modify arbitrary HTML pages. It provides dynamic image and table resizing, quick insert and delete of table cells, and supports CSS and positioned layers.
Iceape Mail & Newsgroups client supports NNTP Newsgroups and IMAP/POP Mail. It has a full variety of features such as multiple accounts, labels, adaptive junk mail control, S/MIME, digital signing.
Iceape Address Book adds address book management to the Iceape Mail & Newsgroups client. It supports LDAP, vCards...
Chatzilla is provided in a separate package (iceape-chatzilla).
Other Packages Related to iceape
rec:

iceape-chatzilla

Package not available
Download iceape
Download for all available architectures

| Architecture | Version | Package Size | Installed Size | Files |
| --- | --- | --- | --- | --- |
| hppa (unofficial port) | 2.7.12-1 | 15,264.8 kB | 39,795.0 kB | [list of files] |
| powerpcspe (unofficial port) | 2.7.12-1+b1 | 14,357.4 kB | 35,351.0 kB | [list of files] |
| ppc64 (unofficial port) | 2.7.12-1+b1 | 20,917.8 kB | 52,643.0 kB | [list of files] |
| sh4 (unofficial port) | 2.0.14-10 | 13,818.9 kB | 35,270.0 kB | [list of files] |