Package: elinks-lite (0.12~pre6-4 and others)
Links for elinks-lite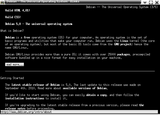 Debian Resources:
Download Source Package elinks:
Maintainers:
External Resources:
Similar packages:
advanced text-mode WWW browser (transition package)
ELinks is a feature-rich program for browsing the web in text mode. It is like enhanced Lynx and Links. The most noteworthy features of ELinks are:
This is a transition package for the move from elinks-lite to elinks. It can be safely removed.
Other Packages Related to elinks-lite
dep:

elinks

advanced text-mode WWW browser