Package: seahorse (43.0-1)
Links for seahorse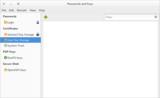 Debian Resources:
Download Source Package seahorse:
Maintainers:
External Resources:
Similar packages:
GNOME front end for GnuPG
Seahorse is a front end for GnuPG - the GNU Privacy Guard program - that integrates to the GNOME desktop. It is a tool for secure communications and data storage. Data encryption and digital signature creation can easily be performed through a GUI and Key Management operations can easily be carried out through an intuitive interface.
Other Packages Related to seahorse
rec:

openssh-client

secure shell (SSH) client, for secure access to remote machines
Download seahorse
Download for all available architectures

| Architecture | Package Size | Installed Size | Files |
| --- | --- | --- | --- |
| alpha (unofficial port) | 1,135.9 kB | 8,333.0 kB | [list of files] |
| amd64 | 1,148.1 kB | 7,987.0 kB | [list of files] |
| arm64 | 1,122.3 kB | 8,139.0 kB | [list of files] |
| armel | 1,095.9 kB | 7,944.0 kB | [list of files] |
| armhf | 1,101.0 kB | 7,752.0 kB | [list of files] |
| hppa (unofficial port) | 1,124.4 kB | 8,051.0 kB | [list of files] |
| i386 | 1,172.4 kB | 8,136.0 kB | [list of files] |
| ia64 (unofficial port) | 1,190.2 kB | 9,003.0 kB | [list of files] |
| m68k (unofficial port) | 1,125.6 kB | 7,904.0 kB | [list of files] |
| mips64el | 1,078.7 kB | 8,237.0 kB | [list of files] |
| mipsel | 1,084.5 kB | 8,225.0 kB | [list of files] |
| ppc64 (unofficial port) | 1,157.7 kB | 8,587.0 kB | [list of files] |
| ppc64el | 1,157.9 kB | 8,395.0 kB | [list of files] |
| riscv64 (unofficial port) | 1,099.4 kB | 7,697.0 kB | [list of files] |
| s390x | 1,117.1 kB | 8,027.0 kB | [list of files] |
| sh4 (unofficial port) | 1,143.3 kB | 7,949.0 kB | [list of files] |
| sparc64 (unofficial port) | 1,084.8 kB | 9,961.0 kB | [list of files] |
| x32 (unofficial port) | 1,150.3 kB | 7,908.0 kB | [list of files] |