[ sid ]
Package: gpsdrive (2.10~pre4-6.dfsg-5.2) [debports]
Links for gpsdrive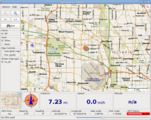 Debian Resources:
Download Source Package :
Not found
Maintainers:
External Resources:
Similar packages:
Car navigation system
Map-based navigation system that displays the current position provided by a GPS receiver on a zoomable map. Maps can be downloaded from different map providers or rendered on-the-fly using the OpenStreetMap dataset.
Route planning, optionally with spoken directions, is supported through waypoints.
Other Packages Related to gpsdrive
dep:

gpsdrive-data

Package not available

dep:

libart-2.0-2 (>= 2.3.17)

Library of functions for 2D graphics - runtime files

dep:

libatk1.0-0 (>= 1.12.4)

ATK accessibility toolkit

filesystem operations (portable paths, iteration over directories, etc) in C++

Operating system (e.g. diagnostics support) library

dep:

libc6 (>= 2.17)

GNU C Library: Shared libraries
also a virtual package provided by libc6-udeb

dep:

libcairo2 (>= 1.2.4)

Cairo 2D vector graphics library

dep:

libdbus-1-3 (>= 1.0.2)

simple interprocess messaging system (library)

dep:

libdbus-glib-1-2 (>= 0.78)

deprecated library for D-Bus IPC

dep:

libfontconfig1 (>= 2.11)

generic font configuration library - runtime

dep:

libfreetype6 (>= 2.2.1)

FreeType 2 font engine, shared library files

dep:

libgcc1 (>= 1:4.7)

GCC support library

dep:

libgdk-pixbuf2.0-0 (>= 2.22.0)

GDK Pixbuf library

dep:

libglib2.0-0 (>= 2.35.9)

GLib library of C routines

dep:

libgtk2.0-0 (>= 2.8.0)

GTK+ graphical user interface library

dep:

libpango-1.0-0 (>= 1.14.0)

Layout and rendering of internationalized text

dep:

libpangocairo-1.0-0 (>= 1.14.0)

Layout and rendering of internationalized text

dep:

libpangoft2-1.0-0 (>= 1.14.0)

Layout and rendering of internationalized text

dep:

libpcre3 (>= 8.10)

Old Perl 5 Compatible Regular Expression Library - runtime files

dep:

libstdc++6 (>= 4.1.1)

GNU Standard C++ Library v3

dep:

libxcursor1 (>> 1.1.2)

X cursor management library

dep:

libxml2 (>= 2.7.4)

GNOME XML library

dep:

openstreetmap-map-icons-classic

Package not available

dep:

openstreetmap-map-icons-square

Package not available
rec:

gpsd

Global Positioning System - daemon

rec:

gpsdrive-scripts

Package not available
sug:

mysql-server

MySQL database server (metapackage depending on the latest version)

sug:

osm2pgsql

OpenStreetMap data to PostgreSQL converter

sug:

postgresql-8.4-postgis

Package not available
Download gpsdrive
Download for all available architectures

| Architecture | Package Size | Installed Size | Files |
| --- | --- | --- | --- |
| arm64 (unofficial port) | 224.1 kB | 692.0 kB | [list of files] |