Package: fet (6.8.5-1 and others)
Links for fet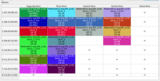 Debian Resources:
Download Source Package fet:
Maintainer:
External Resources:
Similar packages:
timetable generator
FET is a program for automatically generating the timetable of a school, high-school or university.
Usually, FET is able to solve a complicated timetable in maximum 5-20 minutes. For simpler timetables, it may take a shorter time, under 5 minutes (in some cases, a matter of seconds). For extremely difficult timetables, it may take a longer time, a matter of hours.
Other Packages Related to fet
rec:

python3

interactive high-level object-oriented language (default python3 version)
Download fet
Download for all available architectures

| Architecture | Version | Package Size | Installed Size | Files |
| --- | --- | --- | --- | --- |
| alpha (unofficial port) | 6.7.3-2 | 4,593.0 kB | 35,816.0 kB | [list of files] |
| amd64 | 6.8.5-1 | 5,115.7 kB | 26,630.0 kB | [list of files] |
| arm64 | 6.8.5-1 | 4,457.4 kB | 25,906.0 kB | [list of files] |
| armel | 6.8.5-1 | 4,199.5 kB | 23,756.0 kB | [list of files] |
| armhf | 6.8.5-1 | 4,317.3 kB | 18,372.0 kB | [list of files] |
| hppa (unofficial port) | 6.8.5-1 | 4,496.7 kB | 41,328.0 kB | [list of files] |
| i386 | 6.8.5-1 | 5,061.7 kB | 26,908.0 kB | [list of files] |
| ia64 (unofficial port) | 6.8.5-1 | 4,960.4 kB | 55,897.0 kB | [list of files] |
| m68k (unofficial port) | 6.8.5-1 | 5,067.3 kB | 30,368.0 kB | [list of files] |
| mips64el | 6.8.5-1 | 3,225.4 kB | 34,725.0 kB | [list of files] |
| mipsel | 6.8.5-1 | 3,233.4 kB | 34,080.0 kB | [list of files] |
| ppc64 (unofficial port) | 6.8.5-1 | 4,229.6 kB | 34,098.0 kB | [list of files] |
| ppc64el | 6.8.5-1 | 4,497.1 kB | 32,882.0 kB | [list of files] |
| riscv64 (unofficial port) | 6.8.5-1 | 5,104.0 kB | 25,334.0 kB | [list of files] |
| s390x | 6.8.5-1 | 4,449.3 kB | 28,038.0 kB | [list of files] |
| sh4 (unofficial port) | 6.8.5-1 | 5,486.7 kB | 26,945.0 kB | [list of files] |
| sparc64 (unofficial port) | 6.8.5-1 | 3,752.4 kB | 29,900.0 kB | [list of files] |
| x32 (unofficial port) | 6.8.5-1 | 5,180.3 kB | 25,140.0 kB | [list of files] |