Package: utfout (0.0.1-1 and others)
Links for utfout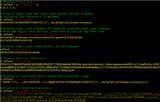 Debian Resources:
Download Source Package utfout:
Maintainer:
External Resources:
Similar packages:
Utility to produce UTF-8 (Unicode) output
This package contains a command-line tool that can produce UTF-8 (Unicode) strings in various ways and direct them to standard output, standard error or direct to the terminal without the need for shell support. Strings can be repeated, delayed, randomly-generated, written to arbitrary file descriptors, interspersed with other characters and generated using ranges. Printf(1)-style escape sequences are supported along with extended escape sequences. utfout(1) Sits somewhere between echo(1) and printf(1).
Other Packages Related to utfout
dep:

libc6.1 (>= 2.4) [alpha]

GNU C Library: Shared libraries
also a virtual package provided by libc6.1-udeb