Package: tennix (1.1-3.1)
Links for tennix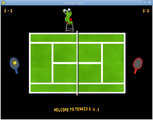 Debian Resources:
Download Source Package tennix:
Maintainer:
External Resources:
Similar packages:
2D tennis game
Tennix is a funny tennis game in 2D. You can play against the computer or against another player using the keyboard. The game runs in-window at 640x480 resolution or fullscreen.
Refer to manpage tennix(6) for gameplay instructions and command-line options.
Other Packages Related to tennix
Download tennix
Download for all available architectures

| Architecture | Package Size | Installed Size | Files |
| --- | --- | --- | --- |
| alpha (unofficial port) | 1,884.9 kB | 2,075.0 kB | [list of files] |
| amd64 | 1,878.8 kB | 2,051.0 kB | [list of files] |
| arm64 | 1,875.3 kB | 2,047.0 kB | [list of files] |
| armel | 1,874.6 kB | 2,045.0 kB | [list of files] |
| armhf | 1,874.5 kB | 2,021.0 kB | [list of files] |
| hppa (unofficial port) | 1,880.6 kB | 2,054.0 kB | [list of files] |
| i386 | 1,881.2 kB | 2,057.0 kB | [list of files] |
| m68k (unofficial port) | 1,872.0 kB | 2,041.0 kB | [list of files] |
| mips64el | 1,883.3 kB | 2,085.0 kB | [list of files] |
| mipsel | 1,883.4 kB | 2,075.0 kB | [list of files] |
| powerpcspe (unofficial port) | 1,879.0 kB | 2,089.0 kB | [list of files] |
| ppc64 (unofficial port) | 1,880.2 kB | 2,093.0 kB | [list of files] |
| ppc64el | 1,879.9 kB | 2,090.0 kB | [list of files] |
| riscv64 (unofficial port) | 1,878.0 kB | 2,039.0 kB | [list of files] |
| s390x | 1,877.3 kB | 2,063.0 kB | [list of files] |
| sh4 (unofficial port) | 1,880.8 kB | 2,041.0 kB | [list of files] |
| sparc64 (unofficial port) | 1,876.3 kB | 2,070.0 kB | [list of files] |
| x32 (unofficial port) | 1,878.7 kB | 2,046.0 kB | [list of files] |