Package: stk (4.6.2+dfsg-2)
Links for stk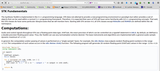 Debian Resources:
Download Source Package stk:
Maintainers:
External Resources:
Similar packages:
Sound Synthesis Toolkit (example applications)
The Sound Synthesis Toolkit is a C++ library with implementations of several sound synthesis algorithms, starting from Frequency Modulation, over Physical Modelling and others. It can be used as a library, but it also provides some nice software synthesizers.
This package provides the example files for the sound synthesis toolkit.
Other Packages Related to stk
Download stk
Download for all available architectures

| Architecture | Package Size | Installed Size | Files |
| --- | --- | --- | --- |
| alpha (unofficial port) | 388.1 kB | 1,097.0 kB | [list of files] |
| amd64 | 389.9 kB | 1,020.0 kB | [list of files] |
| arm64 | 370.8 kB | 980.0 kB | [list of files] |
| armel | 375.3 kB | 990.0 kB | [list of files] |
| armhf | 364.0 kB | 862.0 kB | [list of files] |
| hppa (unofficial port) | 386.3 kB | 1,007.0 kB | [list of files] |
| i386 | 392.4 kB | 1,026.0 kB | [list of files] |
| ia64 (unofficial port) | 421.2 kB | 1,470.0 kB | [list of files] |
| m68k (unofficial port) | 365.5 kB | 997.0 kB | [list of files] |
| mips64el | 389.3 kB | 1,158.0 kB | [list of files] |
| mipsel | 389.3 kB | 1,146.0 kB | [list of files] |
| ppc64 (unofficial port) | 395.9 kB | 1,186.0 kB | [list of files] |
| ppc64el | 393.0 kB | 1,120.0 kB | [list of files] |
| riscv64 (unofficial port) | 384.2 kB | 936.0 kB | [list of files] |
| s390x | 372.4 kB | 1,020.0 kB | [list of files] |
| sh4 (unofficial port) | 393.5 kB | 978.0 kB | [list of files] |
| sparc64 (unofficial port) | 367.1 kB | 1,028.0 kB | [list of files] |
| x32 (unofficial port) | 380.4 kB | 970.0 kB | [list of files] |