Package: sooperlooper (1.7.8~dfsg0-2 and others)
Links for sooperlooper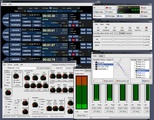 Debian Resources:
Download Source Package sooperlooper:
Maintainers:
External Resources:
Similar packages:
Looping Sampler
SooperLooper is a live looping sampler capable of immediate loop recording, overdubbing, multiplying, reversing and more. It allows for multiple simultaneous multi-channel loops limited only by your computer's available memory.
The application is a standalone JACK client with an engine controllable via OSC and MIDI. It also includes a GUI which communicates with the engine via OSC (even over a network) for user-friendly control on a desktop.
Other Packages Related to sooperlooper
Download sooperlooper
Download for all available architectures

| Architecture | Version | Package Size | Installed Size | Files |
| --- | --- | --- | --- | --- |
| alpha (unofficial port) | 1.7.8~dfsg0-2+b2 | 455.5 kB | 2,566.0 kB | [list of files] |
| amd64 | 1.7.8~dfsg0-2+b2 | 451.7 kB | 2,114.0 kB | [list of files] |
| arm64 | 1.7.8~dfsg0-2+b2 | 394.4 kB | 2,108.0 kB | [list of files] |
| armel | 1.7.8~dfsg0-2+b2 | 362.3 kB | 1,750.0 kB | [list of files] |
| armhf | 1.7.8~dfsg0-2+b2 | 370.8 kB | 1,366.0 kB | [list of files] |
| hppa (unofficial port) | 1.7.8~dfsg0-2+b2 | 416.0 kB | 1,788.0 kB | [list of files] |
| i386 | 1.7.8~dfsg0-2+b2 | 466.7 kB | 1,863.0 kB | [list of files] |
| ia64 (unofficial port) | 1.7.8~dfsg0-2 | 518.4 kB | 3,750.0 kB | [list of files] |
| m68k (unofficial port) | 1.7.8~dfsg0-2 | 445.7 kB | 1,997.0 kB | [list of files] |
| mips64el | 1.7.8~dfsg0-2+b2 | 431.4 kB | 2,903.0 kB | [list of files] |
| mipsel | 1.7.8~dfsg0-2+b2 | 431.6 kB | 2,503.0 kB | [list of files] |
| ppc64 (unofficial port) | 1.7.8~dfsg0-2+b2 | 448.4 kB | 2,748.0 kB | [list of files] |
| ppc64el | 1.7.8~dfsg0-2+b2 | 442.3 kB | 2,493.0 kB | [list of files] |
| riscv64 (unofficial port) | 1.7.8~dfsg0-2+b2 | 417.0 kB | 1,815.0 kB | [list of files] |
| s390x | 1.7.8~dfsg0-2+b2 | 400.4 kB | 2,152.0 kB | [list of files] |
| sh4 (unofficial port) | 1.7.8~dfsg0-2+b2 | 524.2 kB | 2,073.0 kB | [list of files] |
| sparc64 (unofficial port) | 1.7.8~dfsg0-2+b2 | 366.8 kB | 5,268.0 kB | [list of files] |
| x32 (unofficial port) | 1.7.8~dfsg0-2 | 460.8 kB | 1,814.0 kB | [list of files] |