Package: phasex (0.14.97-3 and others)
Links for phasex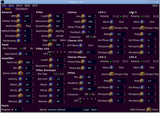 Debian Resources:
Download Source Package phasex:
Maintainers:
External Resources:
Similar packages:
Phase Harmonic Advanced Synthesis EXperiment
PHASEX is an experimental JACK audio / ALSA MIDI softsynth for Linux with a synth engine built around flexible phase modulation and flexible oscillator/LFO sourcing.
Modulations include AM, FM, offset PM, and wave select. PHASEX comes equipped with a 12db/octave filter with two distortion curves, a stereo crossover delay and chorus with phaser, ADSR envelopes for amplifier and filter, realtime audio input processing capabilities, velocity/aftertouch sensitivity, and more.
Other Packages Related to phasex
rec:

jackd

JACK Audio Connection Kit (default server package)
Download phasex
Download for all available architectures

| Architecture | Version | Package Size | Installed Size | Files |
| --- | --- | --- | --- | --- |
| alpha (unofficial port) | 0.14.97-3+b1 | 9,790.5 kB | 11,066.0 kB | [list of files] |
| amd64 | 0.14.97-3+b1 | 9,773.8 kB | 10,921.0 kB | [list of files] |
| arm64 | 0.14.97-3+b1 | 9,765.2 kB | 10,937.0 kB | [list of files] |
| armel | 0.14.97-3+b1 | 9,766.6 kB | 10,904.0 kB | [list of files] |
| armhf | 0.14.97-3+b1 | 9,764.5 kB | 10,812.0 kB | [list of files] |
| hppa (unofficial port) | 0.14.97-3+b1 | 9,771.5 kB | 10,962.0 kB | [list of files] |
| i386 | 0.14.97-3+b1 | 9,776.5 kB | 10,968.0 kB | [list of files] |
| ia64 (unofficial port) | 0.14.97-3+b1 | 9,814.5 kB | 11,416.0 kB | [list of files] |
| m68k (unofficial port) | 0.14.97-3+b1 | 9,729.9 kB | 10,856.0 kB | [list of files] |
| mips64el | 0.14.97-3+b1 | 9,749.5 kB | 11,016.0 kB | [list of files] |
| mipsel | 0.14.97-3+b1 | 9,751.4 kB | 10,985.0 kB | [list of files] |
| ppc64 (unofficial port) | 0.14.97-3+b1 | 9,779.4 kB | 11,117.0 kB | [list of files] |
| ppc64el | 0.14.97-3+b1 | 9,781.8 kB | 11,117.0 kB | [list of files] |
| riscv64 (unofficial port) | 0.14.97-3+b2 | 9,759.2 kB | 10,867.0 kB | [list of files] |
| s390x | 0.14.97-3+b1 | 9,760.6 kB | 10,957.0 kB | [list of files] |
| sh4 (unofficial port) | 0.14.97-3+b1 | 9,775.4 kB | 10,842.0 kB | [list of files] |
| sparc64 (unofficial port) | 0.14.97-3+b1 | 9,755.7 kB | 10,973.0 kB | [list of files] |
| x32 (unofficial port) | 0.14.97-3+b1 | 9,769.3 kB | 10,880.0 kB | [list of files] |