Package: mpd (0.23.12-1 and others)
Links for mpd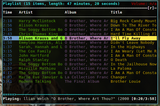 Debian Resources:
Download Source Package mpd:
Maintainers:
External Resources:
Similar packages:
Music Player Daemon
Music Player Daemon (MPD) is a server that allows remote access for playing audio files (Ogg-Vorbis, FLAC, MP3, Wave, and AIFF), streams (Ogg-Vorbis, MP3) and managing playlists. Gapless playback, buffered output, and crossfading support is also included. The design focus is on integrating a computer into a stereo system that provides control for music playback over a TCP/IP network. The goals are to be easy to install and use, to have minimal resource requirements (it has been reported to run fine on a Pentium 75), and to remain stable and flexible.
The daemon is controlled through a client which need not run on the same computer mpd runs on. The separate client and server design allows users to choose a user interface that best suites their tastes independently of the underlying daemon (this package) which actually plays music.
Other Packages Related to mpd
Download mpd
Download for all available architectures

| Architecture | Version | Package Size | Installed Size | Files |
| --- | --- | --- | --- | --- |
| alpha (unofficial port) | 0.23.12-1 | 741.9 kB | 2,921.0 kB | [list of files] |
| amd64 | 0.23.12-1 | 728.5 kB | 2,465.0 kB | [list of files] |
| arm64 | 0.23.12-1 | 665.4 kB | 2,461.0 kB | [list of files] |
| armel | 0.23.12-1 | 625.0 kB | 2,172.0 kB | [list of files] |
| armhf | 0.23.12-1 | 636.5 kB | 1,788.0 kB | [list of files] |
| hppa (unofficial port) | 0.23.11-1+b1 | 722.4 kB | 2,501.0 kB | [list of files] |
| i386 | 0.23.12-1 | 804.0 kB | 2,572.0 kB | [list of files] |
| ia64 (unofficial port) | 0.23.11-1 | 863.8 kB | 4,285.0 kB | [list of files] |
| m68k (unofficial port) | 0.23.12-1 | 713.4 kB | 2,394.0 kB | [list of files] |
| mips64el | 0.23.12-1 | 673.8 kB | 2,874.0 kB | [list of files] |
| mipsel | 0.23.12-1 | 686.2 kB | 2,667.0 kB | [list of files] |
| ppc64 (unofficial port) | 0.23.12-1 | 748.6 kB | 3,227.0 kB | [list of files] |
| ppc64el | 0.23.12-1 | 764.8 kB | 3,037.0 kB | [list of files] |
| riscv64 (unofficial port) | 0.23.12-1 | 701.9 kB | 2,154.0 kB | [list of files] |
| s390x | 0.23.12-1 | 669.1 kB | 2,541.0 kB | [list of files] |
| sh4 (unofficial port) | 0.23.12-1 | 813.1 kB | 2,464.0 kB | [list of files] |
| sparc64 (unofficial port) | 0.23.12-1 | 612.4 kB | 2,879.0 kB | [list of files] |
| x32 (unofficial port) | 0.23.12-1 | 738.5 kB | 2,346.0 kB | [list of files] |