Package: mixxx (2.3.3~dfsg-2 and others)
Links for mixxx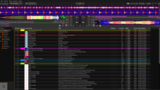 Debian Resources:
Download Source Package mixxx:
Maintainers:
External Resources:
Similar packages:
Digital Disc Jockey Interface
Mixxx is a digital DJ system, where Wave, Ogg, FLAC and MP3 files can be mixed on a computer for use in live performances. Filters, crossfader, and speed control are provided. Mixxx can sync the 2 streams automatically, using an algorithm to detect the beat.
Mixxx works with Jack or OSS, can be controlled from the GUI or from external controllers, including MIDI devices and joysticks, and supports skins.
Other Packages Related to mixxx
dep:

libavcodec58 (>= 7:4.4) [ppc64]

Package not available

dep:

libavcodec59 (>= 7:5.0) [not alpha, ia64, ppc64, sh4, sparc64]

FFmpeg library with de/encoders for audio/video codecs - runtime files

dep:

libavformat58 (>= 7:4.4) [ppc64]

Package not available

dep:

libavformat59 (>= 7:5.0) [not alpha, ia64, ppc64, sh4, sparc64]

FFmpeg library with (de)muxers for multimedia containers - runtime files

dep:

libavutil56 (>= 7:4.4) [ppc64]

Package not available

dep:

libavutil57 (>= 7:5.0) [not alpha, ia64, ppc64, sh4, sparc64]

FFmpeg library with functions for simplifying programming - runtime files

dep:

libc6.1 (>= 2.27) [ia64]

GNU C Library: Shared libraries
also a virtual package provided by libc6.1-udeb

dep:

libc6.1 (>= 2.29) [alpha]

dep:

libchromaprint1 (>= 1.3.2) [not sparc64]

audio fingerprint library

dep:

libebur128-1 (>= 1.0.1) [not ia64, sparc64]

implementation of the EBU R128 loudness standard

dep:

libflac12 (>= 1.3.0) [not alpha, ia64, m68k, ppc64, sh4, sparc64]

Free Lossless Audio Codec - runtime C library

dep:

libflac8 (>= 1.3.0) [alpha, ia64, m68k, ppc64, sh4]

Free Lossless Audio Codec - runtime C library

dep:

libgcc-s1 (>= 3.0) [amd64, arm64, mips64el, ppc64, ppc64el, s390x]

GCC support library

dep:

libgcc-s1 (>= 3.4) [alpha]

dep:

libgcc-s1 (>= 3.5) [armel, armhf]

dep:

libgcc-s1 (>= 4.2) [i386, mipsel, sh4]

dep:

libgcc-s1 (>= 4.3) [riscv64]

dep:

libgcc-s2 (>= 4.2.1) [m68k]

GCC support library

dep:

libgcc-s4 (>= 4.1.1) [hppa]

GCC support library

dep:

libgcc1 [sparc64]

Package not available

dep:

libgcc1 (>= 1:4.2) [ia64]

dep:

libgl1 [alpha, ia64, sh4]

Vendor neutral GL dispatch library -- legacy GL support

dep:

libgl1-mesa-glx [sparc64]

transitional dummy package

or libgl1

Vendor neutral GL dispatch library -- legacy GL support

dep:

libglib2.0-0 (>= 2.12.0) [not ia64, sparc64]

GLib library of C routines

dep:

libglu1-mesa [sparc64]

Mesa OpenGL utility library (GLU)

or libglu1

virtual package provided by libglu1-mesa

dep:

libhidapi-libusb0 (>= 0.8.0~rc1+git20140201.3a66d4e+dfsg) [not sparc64]

Multi-Platform library for communication with HID devices (libusb backend)

dep:

libid3tag0 (>= 0.15.1b)

ID3 tag reading library from the MAD project

dep:

liblilv-0-0 (>= 0.4.2) [not ia64, sparc64]

library for simple use of LV2 plugins

dep:

libmad0 (>= 0.15.1b-3)

MPEG audio decoder library

dep:

libmodplug1 (>= 1:0.8.8.5) [not ia64, sparc64]

shared libraries for mod music based on ModPlug

dep:

libmp3lame0 (>= 3.100) [not alpha, ia64, sh4, sparc64]

MP3 encoding library

dep:

libogg0 (>= 1.0rc3)

Ogg bitstream library

dep:

libopus0 (>= 1.1) [not alpha, ia64, sh4, sparc64]

Opus codec runtime library

dep:

libopusfile0 (>= 0.5) [not sparc64]

High-level API for basic manipulation of Ogg Opus audio streams

dep:

libportaudio2 [sparc64]

Portable audio I/O - shared library

dep:

libportaudio2 (>= 19+svn20101113) [not sparc64]

dep:

libportmidi0

library for real-time MIDI input/output

dep:

libprotobuf-lite10 [ia64]

Package not available

dep:

libprotobuf-lite23 (>= 3.12.3) [alpha, sh4]

protocol buffers C++ library (lite version)

dep:

libprotobuf-lite23 (>= 3.12.4) [hppa, ppc64]

dep:

libprotobuf-lite32 (>= 3.21.9) [not alpha, hppa, ia64, ppc64, sh4, sparc64]

protocol buffers C++ library (lite version)

dep:

libqt4-network (>= 4:4.5.3) [sparc64]

Package not available

dep:

libqt4-opengl (>= 4:4.5.3) [sparc64]

Package not available

dep:

libqt4-qt3support (>= 4:4.5.3) [sparc64]

Package not available

dep:

libqt4-script (>= 4:4.5.3) [sparc64]

Package not available

dep:

libqt4-sql (>= 4:4.5.3) [sparc64]

Package not available

dep:

libqt4-sql-sqlite [sparc64]

Package not available

dep:

libqt4-svg (>= 4:4.5.3) [sparc64]

Package not available

dep:

libqt4-webkit (>= 4:4.5.3) [sparc64]

Package not available

dep:

libqt4-xml (>= 4:4.5.3) [sparc64]

Package not available

dep:

libqt4-xmlpatterns (>= 4:4.5.3) [sparc64]

Package not available

dep:

libqt5concurrent5 (>= 5.6.0~rc) [alpha, ia64, sh4]

Qt 5 concurrent module

dep:

libqt5core5a (>= 5.14.1) [alpha, sh4]

Qt 5 core module

dep:

libqt5core5a (>= 5.15.1) [not alpha, ia64, sh4, sparc64]

dep:

libqt5core5a (>= 5.6.0~beta) [ia64]

dep:

libqt5dbus5 (>= 5.14.1) [not ia64, sparc64]

Qt 5 D-Bus module

dep:

libqt5gui5 (>= 5.1.0) [not alpha, armel, armhf, ia64, sh4, sparc64]

Qt 5 GUI module

dep:

libqt5gui5 (>= 5.14.1) [not ia64, sparc64]

Qt 5 GUI module

or libqt5gui5-gles (>= 5.14.1)

Qt 5 GUI module — OpenGL ES variant

dep:

libqt5gui5 (>= 5.6.0~beta) [ia64]

Qt 5 GUI module

dep:

libqt5keychain1 (>= 0.7.0) [not alpha, ia64, sh4, sparc64]

Qt API to store passwords (QT5 version)

dep:

libqt5network5 (>= 5.0.2) [alpha, ia64, sh4]

Qt 5 network module

dep:

libqt5network5 (>= 5.8.0) [not alpha, ia64, sh4, sparc64]

dep:

libqt5opengl5 (>= 5.0.2) [not sparc64]

Qt 5 OpenGL module

dep:

libqt5script5 (>= 5.6.0~beta) [not sparc64]

Qt 5 script module

dep:

libqt5scripttools5 (>= 5.6.0~beta) [not sparc64]

Qt 5 script tools module

dep:

libqt5sql5 (>= 5.0.2) [alpha, ia64, sh4]

Qt 5 SQL module

dep:

libqt5sql5 (>= 5.3.0) [not alpha, ia64, sh4, sparc64]

dep:

libqt5sql5-sqlite [not sparc64]

Qt 5 SQLite 3 database driver

dep:

libqt5svg5 (>= 5.6.0~beta) [not sparc64]

Qt 5 SVG module

dep:

libqt5widgets5 (>= 5.14.1) [alpha, sh4]

Qt 5 widgets module

dep:

libqt5widgets5 (>= 5.15.1) [not alpha, ia64, sh4, sparc64]

dep:

libqt5widgets5 (>= 5.6.0~beta) [ia64]

dep:

libqt5x11extras5 (>= 5.6.0) [not ia64, sparc64]

Qt 5 X11 extras

dep:

libqt5xml5 (>= 5.0.2) [not sparc64]

Qt 5 XML module

dep:

libqtcore4 (>= 4:4.6.3-2+sparc64) [sparc64]

Package not available

dep:

libqtgui4 (>= 4:4.6.1) [sparc64]

Package not available

dep:

librubberband2 [ia64]

audio time-stretching and pitch-shifting library

dep:

librubberband2 (>= 1.8.2) [sh4]

dep:

librubberband2 (>= 1.9.0) [alpha]

dep:

librubberband2 (>= 2.0.0) [ppc64]

dep:

librubberband2 (>= 3.1.0+dfsg0) [not alpha, ia64, m68k, ppc64, sh4, sparc64]

dep:

librubberband2 (>= 3.1.1+dfsg0) [m68k]

dep:

libshout3 (>= 2.2.2) [ia64]

MP3/Ogg Vorbis broadcast streaming library

dep:

libshout3 (>= 2.4.1) [alpha, sh4]

dep:

libsndfile1 (>= 1.0.20)

Library for reading/writing audio files

dep:

libsoundtouch1 (>= 1.9.2) [ia64]

Sound stretching library

dep:

libsoundtouch1 (>= 2.0.0) [not ia64, sparc64]

dep:

libsqlite3-0 (>= 3.5.9) [alpha, ia64, sh4]

SQLite 3 shared library

dep:

libsqlite3-0 (>= 3.6.0) [not alpha, ia64, sh4, sparc64]

dep:

libssl1.1 (>= 1.1.0) [ppc64]

Package not available

dep:

libssl3 (>= 3.0.0) [not alpha, ia64, ppc64, sh4, sparc64]

Secure Sockets Layer toolkit - shared libraries

dep:

libstdc++6 [sparc64]

GNU Standard C++ Library v3

dep:

libstdc++6 (>= 11) [ppc64]

dep:

libstdc++6 (>= 12) [armel, hppa]

dep:

libstdc++6 (>= 12.2.0-9) [not alpha, armel, hppa, ia64, ppc64, sh4, sparc64]

dep:

libstdc++6 (>= 5.2) [ia64]

dep:

libstdc++6 (>= 7) [alpha, sh4]

dep:

libswresample3 (>= 7:4.4) [ppc64]

Package not available

dep:

libswresample4 (>= 7:5.0) [not alpha, ia64, ppc64, sh4, sparc64]

FFmpeg library for audio resampling, rematrixing etc. - runtime files

dep:

libtag1v5 (>= 1.11) [not ia64, sparc64]

audio meta-data library

dep:

libtag1v5 (>= 1.9.1-2.2~) [ia64]

dep:

libupower-glib3 (>= 0.99.0) [not alpha, ia64, sh4, sparc64]

abstraction for power management - shared library

dep:

libupower-glib3 (>= 0.99.8) [alpha, sh4]

dep:

libusb-1.0-0 (>= 2:1.0.8) [not sparc64]

userspace USB programming library

dep:

libvamp-hostsdk3v5 [ia64]

helper library for Vamp hosts written in C++

dep:

libvamp-sdk2v5 [ia64]

helper library for Vamp plugins written in C++

dep:

libvorbis0a (>= 1.1.2) [sparc64]

decoder library for Vorbis General Audio Compression Codec

dep:

libvorbis0a (>= 1.2.3) [not sparc64]

dep:

libvorbisenc2 (>= 1.1.2) [not sparc64]

encoder library for Vorbis General Audio Compression Codec

dep:

libvorbisfile3 (>= 1.1.2)

high-level API for Vorbis General Audio Compression Codec

dep:

libwavpack1 (>= 4.40.0) [not alpha, ia64, sh4, sparc64]

audio codec (lossy and lossless) - library

dep:

libx11-6 [not sparc64]

X11 client-side library

dep:

mixxx-data (= 1.8.2-1) [sparc64]

Digital Disc Jockey Interface -- data files

dep:

mixxx-data (= 2.0.0~dfsg-9) [ia64]

dep:

mixxx-data (= 2.2.4~dfsg-1) [alpha, sh4]

dep:

mixxx-data (= 2.3.1~dfsg-1) [ppc64]

dep:

mixxx-data (= 2.3.3~dfsg-2) [not alpha, ia64, ppc64, sh4, sparc64]
Download mixxx
Download for all available architectures

| Architecture | Version | Package Size | Installed Size | Files |
| --- | --- | --- | --- | --- |
| alpha (unofficial port) | 2.2.4~dfsg-1 | 5,987.5 kB | 17,871.0 kB | [list of files] |
| amd64 | 2.3.3~dfsg-2+b2 | 3,899.4 kB | 12,735.0 kB | [list of files] |
| arm64 | 2.3.3~dfsg-2+b2 | 3,673.0 kB | 12,231.0 kB | [list of files] |
| armel | 2.3.3~dfsg-2+b2 | 3,318.2 kB | 11,077.0 kB | [list of files] |
| armhf | 2.3.3~dfsg-2+b2 | 3,289.5 kB | 8,709.0 kB | [list of files] |
| hppa (unofficial port) | 2.3.3~dfsg-2+b2 | 4,280.2 kB | 14,584.0 kB | [list of files] |
| i386 | 2.3.3~dfsg-2+b2 | 4,017.5 kB | 13,329.0 kB | [list of files] |
| ia64 (unofficial port) | 2.0.0~dfsg-9+b1 | 5,475.4 kB | 22,795.0 kB | [list of files] |
| m68k (unofficial port) | 2.3.3~dfsg-2 | 3,760.3 kB | 13,348.0 kB | [list of files] |
| mips64el | 2.3.3~dfsg-2+b2 | 3,707.0 kB | 16,977.0 kB | [list of files] |
| mipsel | 2.3.3~dfsg-2+b2 | 3,737.2 kB | 16,400.0 kB | [list of files] |
| ppc64 (unofficial port) | 2.3.1~dfsg-1 | 4,033.4 kB | 16,263.0 kB | [list of files] |
| ppc64el | 2.3.3~dfsg-2+b2 | 4,111.9 kB | 15,303.0 kB | [list of files] |
| riscv64 (unofficial port) | 2.3.3~dfsg-2+b2 | 4,306.1 kB | 12,070.0 kB | [list of files] |
| s390x | 2.3.3~dfsg-2+b2 | 3,479.8 kB | 13,191.0 kB | [list of files] |
| sh4 (unofficial port) | 2.2.4~dfsg-1 | 6,453.8 kB | 13,704.0 kB | [list of files] |
| sparc64 (unofficial port) | 1.8.2-1 | 2,087.5 kB | 4,144.0 kB | [list of files] |