Package: freewheeling (0.6.4-1.1)
Links for freewheeling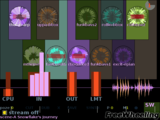 Debian Resources:
Download Source Package freewheeling:
Maintainer:
External Resources:
Similar packages:
live looping musical instrument
FreeWheeling is a live looping instrument built for improvisation. Using a keyboard or a MIDI controller, it allows one to build and control repetitive patterns from a live audio stream.
FreeWheeling uses the Jack Audio Connection Kit, Fluidsynth, and SDL.
Other Packages Related to freewheeling
Download freewheeling
Download for all available architectures

| Architecture | Package Size | Installed Size | Files |
| --- | --- | --- | --- |
| alpha (unofficial port) | 345.2 kB | 1,199.0 kB | [list of files] |
| amd64 | 303.8 kB | 1,159.0 kB | [list of files] |
| arm64 | 285.7 kB | 1,039.0 kB | [list of files] |
| armel | 263.0 kB | 975.0 kB | [list of files] |
| armhf | 262.2 kB | 811.0 kB | [list of files] |
| hppa (unofficial port) | 332.9 kB | 1,117.0 kB | [list of files] |
| i386 | 299.2 kB | 1,141.0 kB | [list of files] |
| ia64 (unofficial port) | 422.5 kB | 1,860.0 kB | [list of files] |
| m68k (unofficial port) | 258.3 kB | 1,033.0 kB | [list of files] |
| mips64el | 307.7 kB | 1,290.0 kB | [list of files] |
| mipsel | 312.6 kB | 1,211.0 kB | [list of files] |
| ppc64 (unofficial port) | 328.4 kB | 1,369.0 kB | [list of files] |
| ppc64el | 325.5 kB | 1,235.0 kB | [list of files] |
| riscv64 (unofficial port) | 310.5 kB | 1,004.0 kB | [list of files] |
| s390x | 282.9 kB | 1,155.0 kB | [list of files] |
| sh4 (unofficial port) | 305.0 kB | 917.0 kB | [list of files] |
| sparc64 (unofficial port) | 279.4 kB | 1,119.0 kB | [list of files] |
| x32 (unofficial port) | 295.7 kB | 1,079.0 kB | [list of files] |