Package: qgis (3.22.16+dfsg-1 and others)
Links for qgis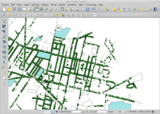 Debian Resources:
Download Source Package qgis:
Maintainers:
External Resources:
Similar packages:
Geographic Information System (GIS)
A Geographic Information System (GIS) manages, analyzes, and displays databases of geographic information. QGIS supports shape file viewing and editing, spatial data storage with PostgreSQL/PostGIS, projection on-the-fly, map composition, and a number of other features via a plugin interface. QGIS also supports display of various georeferenced raster and Digital Elevation Model (DEM) formats including GeoTIFF, Arc/Info ASCII Grid, and USGS ASCII DEM.
Other Packages Related to qgis
dep:

gdal-abi-2-2-1 [sparc64]

Package not available

dep:

libc6 (>= 2.32) [m68k, ppc64]

GNU C Library: Shared libraries
also a virtual package provided by libc6-udeb

dep:

libc6 (>= 2.34) [not alpha, m68k, ppc64, sparc64]

dep:

libc6 (>= 2.4) [sparc64]

dep:

libc6.1 (>= 2.32) [alpha]

GNU C Library: Shared libraries
also a virtual package provided by libc6.1-udeb

dep:

libexiv2-27 (>= 0.27.3) [m68k, ppc64]

EXIF/IPTC/XMP metadata manipulation library

dep:

libexiv2-27 (>= 0.27.5) [alpha]

dep:

libexpat1 (>= 2.0.1) [sparc64]

XML parsing C library - runtime library

dep:

libgcc-s1 (>= 3.0) [not armel, armhf, hppa, i386, m68k, sparc64]

GCC support library

dep:

libgcc-s1 (>= 3.5) [armel, armhf]

dep:

libgcc-s1 (>= 4.2) [i386]

dep:

libgcc-s2 (>= 4.2.1) [m68k]

GCC support library

dep:

libgcc-s4 (>= 4.1.1) [hppa]

GCC support library

dep:

libgcc1 (>= 1:3.0) [sparc64]

Package not available

dep:

libgdal20 (>= 2.0.2) [sparc64]

Package not available

dep:

libgdal30 (>= 1.11) [alpha, m68k, ppc64]

Package not available

dep:

libgdal32 (>= 1.11) [not alpha, m68k, ppc64, sparc64]

Geospatial Data Abstraction Library

dep:

libgeos-c1v5 (>= 3.4.2)

Geometry engine for Geographic Information Systems - C Library

dep:

libgsl23 [sparc64]

Package not available

dep:

libgslcblas0 [sparc64]

GNU Scientific Library (GSL) -- blas library package

dep:

libpq5 [sparc64]

PostgreSQL C client library

dep:

libproj12 (>= 4.8.0) [sparc64]

Package not available

dep:

libproj22 (>= 5.0.0) [m68k, ppc64]

Package not available

dep:

libproj25 (>= 5.0.0) [not m68k, ppc64, sparc64]

Cartographic projection library

dep:

libqca2 (>= 2.0.2) [sparc64]

Package not available

dep:

libqgis-3d3.16.16 (>= 3.4.5) [m68k, ppc64]

QGIS - shared 3d library

dep:

libqgis-3d3.22.13 (>= 3.4.5) [x32]

QGIS - shared 3d library

dep:

libqgis-3d3.22.16 (>= 3.4.5) [not alpha, m68k, ppc64, sparc64, x32]

QGIS - shared 3d library

dep:

libqgis-3d3.22.7 (>= 3.4.5) [alpha]

QGIS - shared 3d library

dep:

libqgis-analysis2.14.19 (>= 2.14.0) [sparc64]

QGIS - shared analysis library

dep:

libqgis-analysis3.16.16 (>= 3.16.4) [m68k, ppc64]

QGIS - shared analysis library

dep:

libqgis-analysis3.22.13 (>= 3.16.4) [x32]

QGIS - shared analysis library

dep:

libqgis-analysis3.22.16 (>= 3.16.4) [not alpha, m68k, ppc64, sparc64, x32]

QGIS - shared analysis library

dep:

libqgis-analysis3.22.7 (>= 3.16.4) [alpha]

QGIS - shared analysis library

dep:

libqgis-app2.14.19 (>= 2.14.0) [sparc64]

QGIS - shared app library

dep:

libqgis-app3.16.16 (>= 3.4.9) [m68k, ppc64]

QGIS - shared app library

dep:

libqgis-app3.22.13 (>= 3.4.5) [x32]

QGIS - shared app library

dep:

libqgis-app3.22.16 (>= 3.4.5) [not alpha, m68k, ppc64, sparc64, x32]

QGIS - shared app library

dep:

libqgis-app3.22.7 (>= 3.4.5) [alpha]

QGIS - shared app library

dep:

libqgis-core2.14.19 (>= 2.14.19) [sparc64]

QGIS - shared core library

dep:

libqgis-core3.16.16 (>= 3.16.4) [m68k, ppc64]

QGIS - shared core library

dep:

libqgis-core3.22.13 (>= 3.22.4) [x32]

QGIS - shared core library

dep:

libqgis-core3.22.16 (>= 3.22.4) [not alpha, m68k, ppc64, sparc64, x32]

QGIS - shared core library

dep:

libqgis-core3.22.7 (>= 3.22.4) [alpha]

QGIS - shared core library

dep:

libqgis-gui2.14.19 (>= 2.14.0) [sparc64]

QGIS - shared gui library

dep:

libqgis-gui3.16.16 (>= 3.16.4) [m68k, ppc64]

QGIS - shared gui library

dep:

libqgis-gui3.22.13 (>= 3.16.4) [x32]

QGIS - shared gui library

dep:

libqgis-gui3.22.16 (>= 3.16.4) [not alpha, m68k, ppc64, sparc64, x32]

QGIS - shared gui library

dep:

libqgis-gui3.22.7 (>= 3.16.4) [alpha]

QGIS - shared gui library

dep:

libqgis-networkanalysis2.14.19 (>= 2.0.1) [sparc64]

QGIS - shared network analysis library

dep:

libqscintilla2-12v5 (>= 2.8.4) [sparc64]

Qt4 port of the Scintilla source code editing widget

dep:

libqt4-network (>= 4:4.5.3) [sparc64]

Package not available

dep:

libqt4-sql (>= 4:4.5.3) [sparc64]

Package not available

dep:

libqt4-svg (>= 4:4.5.3) [sparc64]

Package not available

dep:

libqt4-xml (>= 4:4.5.3) [sparc64]

Package not available

dep:

libqt5core5a (>= 5.15.1) [not sparc64]

Qt 5 core module

dep:

libqt5gui5 (>= 5.8.0) [not sparc64]

Qt 5 GUI module

or libqt5gui5-gles (>= 5.8.0)

Qt 5 GUI module — OpenGL ES variant

dep:

libqt5keychain1 (>= 0.7.0) [not sparc64]

Qt API to store passwords (QT5 version)

dep:

libqt5network5 (>= 5.14.1) [m68k, ppc64]

Qt 5 network module

dep:

libqt5network5 (>= 5.15.1) [not m68k, ppc64, sparc64]

dep:

libqt5webkit5 (>= 5.212.0~alpha3) [not sparc64]

Web content engine library for Qt

dep:

libqt5widgets5 (>= 5.2.0~alpha1) [not sparc64]

Qt 5 widgets module

dep:

libqtcore4 (>= 4:4.8.6) [sparc64]

Package not available

dep:

libqtgui4 (>= 4:4.8.0) [sparc64]

Package not available

dep:

libqtwebkit4 (>= 2.1.0~2011week13) [sparc64]

Package not available

dep:

libqwt6abi1 (>= 6.1.2) [sparc64]

Package not available

dep:

libspatialindex4v5 (>= 1.8.1) [sparc64]

Package not available

dep:

libspatialite7 (>= 2.4.0) [sparc64]

Geospatial extension for SQLite - libraries

dep:

libsqlite3-0 (>= 3.5.9) [sparc64]

SQLite 3 shared library

dep:

libstdc++6 (>= 11) [m68k, ppc64]

GNU Standard C++ Library v3

dep:

libstdc++6 (>= 5.2) [not m68k, ppc64]

dep:

ocl-icd-libopencl1 [not sparc64]

Generic OpenCL ICD Loader

or libopencl1

virtual package provided by nvidia-libopencl1, ocl-icd-libopencl1

dep:

ocl-icd-libopencl1 (>= 1.0) [not sparc64]

Generic OpenCL ICD Loader
virtual package provided by nvidia-libopencl1, ocl-icd-libopencl1

dep:

python-qgis (= 2.14.19+dfsg-1) [sparc64]

Python bindings to QGIS

dep:

python3-qgis (= 3.16.16+dfsg-1) [m68k, ppc64]

Python bindings to QGIS

dep:

python3-qgis (= 3.22.13+dfsg-1+b1) [x32]

dep:

python3-qgis (= 3.22.16+dfsg-1) [not alpha, m68k, ppc64, sparc64, x32]

dep:

python3-qgis (= 3.22.7+dfsg-1) [alpha]

dep:

qgis-common (= 2.14.19+dfsg-1) [sparc64]

QGIS - architecture-independent data

dep:

qgis-common (= 3.16.16+dfsg-1) [m68k, ppc64]

dep:

qgis-common (= 3.22.13+dfsg-1) [x32]

dep:

qgis-common (= 3.22.16+dfsg-1) [not alpha, m68k, ppc64, sparc64, x32]

dep:

qgis-common (= 3.22.7+dfsg-1) [alpha]

dep:

qgis-providers (= 2.14.19+dfsg-1) [sparc64]

collection of data providers to QGIS

dep:

qgis-providers (= 3.16.16+dfsg-1) [m68k, ppc64]

dep:

qgis-providers (= 3.22.13+dfsg-1+b1) [x32]

dep:

qgis-providers (= 3.22.16+dfsg-1) [not alpha, m68k, ppc64, sparc64, x32]

dep:

qgis-providers (= 3.22.7+dfsg-1) [alpha]
sug:

gpsbabel

GPS file conversion plus transfer to/from GPS units
Download qgis
Download for all available architectures

| Architecture | Version | Package Size | Installed Size | Files |
| --- | --- | --- | --- | --- |
| alpha (unofficial port) | 3.22.7+dfsg-1 | 3,780.2 kB | 5,654.0 kB | [list of files] |
| amd64 | 3.22.16+dfsg-1 | 3,791.9 kB | 5,283.0 kB | [list of files] |
| arm64 | 3.22.16+dfsg-1 | 3,757.9 kB | 5,487.0 kB | [list of files] |
| armel | 3.22.16+dfsg-1 | 3,734.6 kB | 5,085.0 kB | [list of files] |
| armhf | 3.22.16+dfsg-1 | 3,741.5 kB | 4,833.0 kB | [list of files] |
| hppa (unofficial port) | 3.22.16+dfsg-1 | 3,809.9 kB | 5,529.0 kB | [list of files] |
| i386 | 3.22.16+dfsg-1 | 3,819.7 kB | 5,277.0 kB | [list of files] |
| m68k (unofficial port) | 3.16.16+dfsg-1 | 3,607.0 kB | 5,326.0 kB | [list of files] |
| mips64el | 3.22.16+dfsg-1 | 3,782.9 kB | 5,954.0 kB | [list of files] |
| ppc64 (unofficial port) | 3.16.16+dfsg-1 | 3,581.4 kB | 5,813.0 kB | [list of files] |
| ppc64el | 3.22.16+dfsg-1 | 3,782.5 kB | 5,679.0 kB | [list of files] |
| riscv64 (unofficial port) | 3.22.16+dfsg-1 | 3,770.2 kB | 5,063.0 kB | [list of files] |
| s390x | 3.22.16+dfsg-1 | 3,750.2 kB | 5,343.0 kB | [list of files] |
| sparc64 (unofficial port) | 2.14.19+dfsg-1 | 4,571.3 kB | 11,854.0 kB | [list of files] |
| x32 (unofficial port) | 3.22.13+dfsg-1+b1 | 3,793.4 kB | 5,166.0 kB | [list of files] |