Package: savi (1.5.1-4)
Links for savi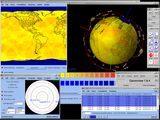 Debian Resources:
Download Source Package savi:
Maintainers:
External Resources:
Similar packages:
satellite constellation visualisation
SaVi allows you to simulate satellite orbits and coverage, in two and three dimensions. SaVi is particularly useful for simulating satellite constellations such as Iridium and Globalstar.
SaVi can use Geomview, an optional but useful package, for 3D rendering.
Other Packages Related to savi
sug:

geomview

interactive geometry viewing program
Download savi
Download for all available architectures

| Architecture | Package Size | Installed Size | Files |
| --- | --- | --- | --- |
| alpha (unofficial port) | 796.0 kB | 2,214.0 kB | [list of files] |
| amd64 | 792.3 kB | 2,190.0 kB | [list of files] |
| arm64 | 789.9 kB | 2,194.0 kB | [list of files] |
| armel | 790.3 kB | 2,185.0 kB | [list of files] |
| armhf | 786.4 kB | 2,149.0 kB | [list of files] |
| hppa (unofficial port) | 787.4 kB | 2,178.0 kB | [list of files] |
| i386 | 794.7 kB | 2,201.0 kB | [list of files] |
| ia64 (unofficial port) | 805.6 kB | 2,320.0 kB | [list of files] |
| m68k (unofficial port) | 787.3 kB | 2,188.0 kB | [list of files] |
| mips64el | 791.6 kB | 2,210.0 kB | [list of files] |
| mipsel | 792.5 kB | 2,203.0 kB | [list of files] |
| ppc64 (unofficial port) | 796.3 kB | 2,270.0 kB | [list of files] |
| ppc64el | 796.4 kB | 2,270.0 kB | [list of files] |
| riscv64 (unofficial port) | 788.2 kB | 2,167.0 kB | [list of files] |
| s390x | 789.7 kB | 2,197.0 kB | [list of files] |
| sh4 (unofficial port) | 797.7 kB | 2,177.0 kB | [list of files] |
| sparc64 (unofficial port) | 785.1 kB | 2,192.0 kB | [list of files] |
| x32 (unofficial port) | 792.4 kB | 2,181.0 kB | [list of files] |