Package: samba-testsuite (2:4.11.1+dfsg-3 and others)
Links for samba-testsuite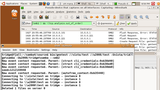 Debian Resources:
Download Source Package samba:
Maintainers:
External Resources:
Similar packages:
test suite from Samba
Samba is an implementation of the SMB/CIFS protocol for Unix systems, providing support for cross-platform file sharing with Microsoft Windows, OS X, and other Unix systems. Samba can also function as a domain controller or member server in both NT4-style and Active Directory domains.
This package contains programs for testing the reliability and speed of SMB servers, Samba in particular.
Other Packages Related to samba-testsuite
sug:

subunit

command line tools for processing Subunit streams
Download samba-testsuite
Download for all available architectures

| Architecture | Version | Package Size | Installed Size | Files |
| --- | --- | --- | --- | --- |
| alpha (unofficial port) | 2:4.11.1+dfsg-1 | 1,842.9 kB | 10,053.0 kB | [list of files] |
| amd64 | 2:4.11.1+dfsg-3 | 1,920.0 kB | 8,762.0 kB | [list of files] |
| arm64 | 2:4.11.1+dfsg-3 | 1,761.5 kB | 8,569.0 kB | [list of files] |
| armel | 2:4.11.1+dfsg-3 | 1,844.1 kB | 8,642.0 kB | [list of files] |
| armhf | 2:4.11.1+dfsg-3 | 1,957.9 kB | 7,230.0 kB | [list of files] |
| hppa (unofficial port) | 2:4.11.1+dfsg-3 | 1,919.6 kB | 10,468.0 kB | [list of files] |
| i386 | 2:4.11.1+dfsg-3 | 2,048.5 kB | 10,359.0 kB | [list of files] |
| m68k (unofficial port) | 2:4.11.1+dfsg-3 | 1,966.6 kB | 8,992.0 kB | [list of files] |
| mips64el | 2:4.11.1+dfsg-3 | 1,485.2 kB | 9,078.0 kB | [list of files] |
| mipsel | 2:4.11.1+dfsg-3 | 1,594.8 kB | 9,580.0 kB | [list of files] |
| powerpcspe (unofficial port) | 2:4.9.5+dfsg-3 | 1,687.9 kB | 9,287.0 kB | [list of files] |
| ppc64 (unofficial port) | 2:4.11.1+dfsg-3 | 1,860.4 kB | 10,713.0 kB | [list of files] |
| ppc64el | 2:4.11.1+dfsg-3 | 1,877.5 kB | 10,137.0 kB | [list of files] |
| riscv64 (unofficial port) | 2:4.11.1+dfsg-3 | 1,765.9 kB | 7,487.0 kB | [list of files] |
| s390x | 2:4.11.1+dfsg-3 | 1,712.9 kB | 9,009.0 kB | [list of files] |
| sh4 (unofficial port) | 2:4.11.1+dfsg-3 | 2,233.4 kB | 8,039.0 kB | [list of files] |
| sparc64 (unofficial port) | 2:4.11.1+dfsg-3 | 1,570.2 kB | 8,915.0 kB | [list of files] |
| x32 (unofficial port) | 2:4.11.1+dfsg-3 | 1,940.5 kB | 8,528.0 kB | [list of files] |