Package: ree (1.4.1-1)
Links for ree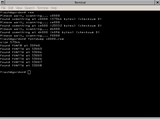 Debian Resources:
Download Source Package ree:
Maintainer:
External Resources:
Similar packages:
extract ROM extensions
ROM extension extractor (ree) is a tool which extracts ROM extensions from the firmware of a PC computer. This package also comes with fontdump, a program to extract the fonts from your video BIOS.
ree will scan the system memory, address c0000 - f0000 in 512 byte steps for identification of ROM extensions (55,aa). If found, it will calculate its size (byte after id, multiplied by 512byte steps) and save the output to a .rom file.
Other Packages Related to ree
dep:

libc6 (>= 2.7)

GNU C Library: Shared libraries
also a virtual package provided by libc6-udeb