Package: notion (4.0.2+dfsg-6)
Links for notion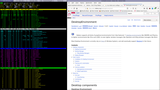 Debian Resources:
Download Source Package notion:
Maintainer:
External Resources:
Similar packages:
tiling tabbed window manager designed for keyboard users
Notion divides the screen into tiles and places windows in these tiles by default. Each tile has a set of tabs for the windows within it. It also allows windows to be made 'floating' and placed freely. Notion can be controlled through the keyboard alone or together with a mouse.
Notion can be configured and extended using the Lua language. It also supports extension modules written in C.
Other Packages Related to notion
rec:

xfonts-75dpi

75 dpi fonts for X
75 dpi fonts for X (transcoded from ISO 10646-1)
100 dpi fonts for X
100 dpi fonts for X (transcoded from ISO 10646-1)
sug:

wmdocker

System tray for KDE3/GNOME2 docklet applications
Download notion
Download for all available architectures

| Architecture | Package Size | Installed Size | Files |
| --- | --- | --- | --- |
| alpha (unofficial port) | 419.6 kB | 1,633.0 kB | [list of files] |
| amd64 | 408.3 kB | 1,512.0 kB | [list of files] |
| arm64 | 392.9 kB | 1,505.0 kB | [list of files] |
| armel | 360.1 kB | 1,272.0 kB | [list of files] |
| armhf | 363.2 kB | 1,112.0 kB | [list of files] |
| hppa (unofficial port) | 395.8 kB | 1,438.0 kB | [list of files] |
| i386 | 405.5 kB | 1,397.0 kB | [list of files] |
| ia64 (unofficial port) | 445.6 kB | 2,080.0 kB | [list of files] |
| m68k (unofficial port) | 379.2 kB | 1,323.0 kB | [list of files] |
| mips64el | 387.8 kB | 1,576.0 kB | [list of files] |
| mipsel | 387.4 kB | 1,495.0 kB | [list of files] |
| ppc64 (unofficial port) | 417.2 kB | 2,502.0 kB | [list of files] |
| ppc64el | 415.3 kB | 2,309.0 kB | [list of files] |
| riscv64 (unofficial port) | 368.5 kB | 1,248.0 kB | [list of files] |
| s390x | 395.5 kB | 1,561.0 kB | [list of files] |
| sh4 (unofficial port) | 412.7 kB | 1,294.0 kB | [list of files] |
| sparc64 (unofficial port) | 358.6 kB | 1,456.0 kB | [list of files] |
| x32 (unofficial port) | 404.3 kB | 1,381.0 kB | [list of files] |