Package: transmission-cli (4.0.2-1 and others)
Links for transmission-cli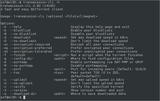 Debian Resources:
Download Source Package transmission:
Maintainers:
External Resources:
Similar packages:
lightweight BitTorrent client (command line programs)
Transmission is a set of lightweight BitTorrent clients (in GUI, CLI and daemon form). All its incarnations feature a very simple, intuitive interface on top on an efficient, cross-platform back-end.
This package contains a (deprecated) stand-alone command-line client, transmission-remote to interface with transmission-daemon and tools to create, edit and inspect torrent files.
Other Packages Related to transmission-cli
dep:

libc6.1 (>= 2.34) [alpha]

GNU C Library: Shared libraries
also a virtual package provided by libc6.1-udeb

dep:

libc6.1 (>= 2.35) [ia64]

dep:

libcurl4 (>= 7.18.0) [alpha, hppa, ia64, m68k, sh4, sparc64, x32]

easy-to-use client-side URL transfer library (OpenSSL flavour)

dep:

libcurl4 (>= 7.28.0) [not alpha, hppa, ia64, m68k, sh4, sparc64, x32]

dep:

libdeflate0 (>= 1.0) [not alpha, hppa, ia64, m68k, sh4, sparc64, x32]

fast, whole-buffer DEFLATE-based compression and decompression

dep:

libevent-2.1-7 (>= 2.1.8-stable)

Asynchronous event notification library

dep:

libgcc-s1 (>= 3.0) [ppc64el, s390x]

GCC support library

dep:

libgcc-s1 (>= 3.4) [amd64, ppc64]

dep:

libgcc-s1 (>= 3.5) [armel, armhf]

dep:

libgcc-s1 (>= 4.2) [mipsel]

dep:

libgcc-s1 (>= 4.5) [arm64, mips64el, riscv64]

dep:

libgcc-s1 (>= 7) [i386]

dep:

libminiupnpc17 (>= 1.9.20140610)

UPnP IGD client lightweight library

dep:

libnatpmp1 (>= 20150609)

portable and fully compliant implementation of NAT-PMP

dep:

libssl1.1 (>= 1.1.0) [m68k, sh4, sparc64]

Package not available

dep:

libssl3 (>= 3.0.0) [not m68k, sh4, sparc64]

Secure Sockets Layer toolkit - shared libraries

dep:

libstdc++6 (>= 12) [not alpha, hppa, ia64, m68k, sh4, sparc64, x32]

GNU Standard C++ Library v3

dep:

transmission-common (= 3.00-1) [m68k, sh4, sparc64]

lightweight BitTorrent client (common files)

dep:

transmission-common (= 3.00-2.1) [alpha, hppa, ia64, x32]

dep:

transmission-common (= 4.0.2-1) [not alpha, hppa, ia64, m68k, sh4, sparc64, x32]

dep:

zlib1g (>= 1:1.1.4) [alpha, hppa, ia64, m68k, sh4, sparc64, x32]

compression library - runtime
sug:

transmission-daemon (= 3.00-1) [m68k, sh4, sparc64]

lightweight BitTorrent client (daemon)

sug:

transmission-daemon (= 3.00-2.1+b1) [alpha, hppa, ia64, x32]

sug:

transmission-daemon (= 4.0.2-1) [not alpha, hppa, ia64, m68k, sh4, sparc64, x32]

sug:

transmission-gtk (= 3.00-1) [m68k, sh4, sparc64]

lightweight BitTorrent client (GTK+ interface)

sug:

transmission-gtk (= 3.00-2.1+b1) [alpha, hppa, ia64, x32]

sug:

transmission-gtk (= 4.0.2-1) [not alpha, hppa, ia64, m68k, sh4, sparc64, x32]
Download transmission-cli
Download for all available architectures

| Architecture | Version | Package Size | Installed Size | Files |
| --- | --- | --- | --- | --- |
| alpha (unofficial port) | 3.00-2.1+b1 | 442.7 kB | 3,639.0 kB | [list of files] |
| amd64 | 4.0.2-1 | 1,221.3 kB | 9,855.0 kB | [list of files] |
| arm64 | 4.0.2-1 | 1,079.1 kB | 8,883.0 kB | [list of files] |
| armel | 4.0.2-1 | 934.5 kB | 6,565.0 kB | [list of files] |
| armhf | 4.0.2-1 | 968.2 kB | 4,921.0 kB | [list of files] |
| hppa (unofficial port) | 3.00-2.1+b1 | 370.6 kB | 2,521.0 kB | [list of files] |
| i386 | 4.0.2-1 | 1,209.1 kB | 8,106.0 kB | [list of files] |
| ia64 (unofficial port) | 3.00-2.1+b1 | 485.9 kB | 5,739.0 kB | [list of files] |
| m68k (unofficial port) | 3.00-1 | 376.5 kB | 2,353.0 kB | [list of files] |
| mips64el | 4.0.2-1 | 1,140.4 kB | 12,757.0 kB | [list of files] |
| mipsel | 4.0.2-1 | 1,106.4 kB | 9,362.0 kB | [list of files] |
| ppc64 (unofficial port) | 4.0.2-1 | 1,171.6 kB | 12,151.0 kB | [list of files] |
| ppc64el | 4.0.2-1 | 1,190.7 kB | 11,318.0 kB | [list of files] |
| riscv64 (unofficial port) | 4.0.2-1 | 1,168.1 kB | 7,896.0 kB | [list of files] |
| s390x | 4.0.2-1 | 1,094.4 kB | 10,322.0 kB | [list of files] |
| sh4 (unofficial port) | 3.00-1 | 383.1 kB | 2,206.0 kB | [list of files] |
| sparc64 (unofficial port) | 3.00-1 | 311.6 kB | 2,462.0 kB | [list of files] |
| x32 (unofficial port) | 3.00-2.1+b1 | 425.4 kB | 2,618.0 kB | [list of files] |