Package: kget (4:21.12.3-1 and others)
Links for kget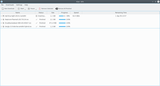 Debian Resources:
Download Source Package kget:
Maintainers:
External Resources:
Similar packages:
download manager
KGet is an advanced download manager with support for Metalink and Bittorrent. Downloads are added to the list, where they can be paused, queued, or scheduled for later.
This package is part of the KDE networking module.
Other Packages Related to kget
dep:

kde-runtime (>> 4:4.10) [sparc64]

Package not available

dep:

kio [not sparc64]

resource and network access abstraction

dep:

libc6 (>= 2.33) [hppa, m68k, sh4, x32]

GNU C Library: Shared libraries
also a virtual package provided by libc6-udeb

dep:

libc6 (>= 2.34) [not alpha, hppa, m68k, sh4, sparc64, x32]

dep:

libc6 (>= 2.4) [sparc64]

dep:

libc6.1 (>= 2.33) [alpha]

GNU C Library: Shared libraries
also a virtual package provided by libc6.1-udeb

dep:

libgcc-s1 (>= 3.0) [amd64, arm64, mips64el, ppc64, ppc64el, s390x, x32]

GCC support library

dep:

libgcc-s1 (>= 3.4) [alpha, riscv64]

dep:

libgcc-s1 (>= 3.5) [armel, armhf]

dep:

libgcc-s1 (>= 4.2) [i386, mipsel, sh4]

dep:

libgcc-s2 (>= 4.2.1) [m68k]

GCC support library

dep:

libgcc-s4 (>= 4.1.1) [hppa]

GCC support library

dep:

libgcc1 (>= 1:3.4) [sparc64]

Package not available

dep:

libgpgmepp6 (>= 1.14.0) [x32]

C++ wrapper library for GPGME

dep:

libgpgmepp6 (>= 1.16.0) [m68k]

dep:

libgpgmepp6 (>= 1.17.1) [alpha, hppa, sh4]

dep:

libgpgmepp6 (>= 1.18.0) [not alpha, hppa, m68k, sh4, sparc64, x32]

dep:

libjs-mootools

compact JavaScript framework

dep:

libkcmutils4 (>= 4:4.4.95) [sparc64]

Package not available

dep:

libkdecore5 (>= 4:4.4.95) [sparc64]

Package not available

dep:

libkdeui5 (>= 4:4.7.0) [sparc64]

Package not available

dep:

libkf5completion5 (>= 5.83.0~) [not sparc64]

Widgets with advanced auto-completion features.

dep:

libkf5configcore5 (>= 5.83.0~) [not sparc64]

configuration settings framework for Qt

dep:

libkf5configgui5 (>= 5.83.0~) [not sparc64]

configuration settings framework for Qt

dep:

libkf5configwidgets5 (>= 5.83.0~) [not sparc64]

Extra widgets for easier configuration support.

dep:

libkf5coreaddons5 (>= 5.83.0~) [not sparc64]

KDE Frameworks 5 addons to QtCore

dep:

libkf5dbusaddons5 (>= 5.83.0~) [not sparc64]

class library for qtdbus

dep:

libkf5i18n5 (>= 5.83.0~) [not sparc64]

Advanced internationalization framework.

dep:

libkf5iconthemes5 (>= 5.83.0~) [not sparc64]

Support for icon themes.

dep:

libkf5itemviews5 (>= 5.83.0~) [not sparc64]

Qt library with additional widgets for ItemModels

dep:

libkf5jobwidgets5 (>= 5.70.0) [not sparc64]

Widgets for tracking KJob instances

dep:

libkf5kcmutils5 (>= 5.83.0~) [not sparc64]

Extra APIs to write KConfig modules

dep:

libkf5kdelibs4support5 (>= 5.83.0~) [not sparc64]

Porting aid from KDELibs4.

dep:

libkf5kiocore5 (>= 5.83.0~) [not sparc64]

resource and network access abstraction (KIO core library)

dep:

libkf5kiogui5 (>= 5.83.0~) [not sparc64]

resource and network access abstraction (KIO gui library)

dep:

libkf5kiowidgets5 (>= 5.83.0~) [not sparc64]

resource and network access abstraction (KIO widgets library)

dep:

libkf5notifications5 (>= 5.83.0~) [not sparc64]

Framework for desktop notifications

dep:

libkf5notifyconfig5 (>= 5.83.0~) [not sparc64]

Configuration system for KNotify.

dep:

libkf5parts5 (>= 5.83.0~) [not sparc64]

Document centric plugin system.

dep:

libkf5service-bin [not sparc64]

Advanced plugin and service introspection

dep:

libkf5service5 (>= 5.83.0~) [not sparc64]

Advanced plugin and service introspection

dep:

libkf5torrent6abi2 (>= 21.07.70~) [alpha, hppa, m68k, sh4, x32]

KTorrent library for C++ / Qt 5 / KDE Frameworks

dep:

libkf5torrent6abi3 (>= 21.07.70~) [not alpha, hppa, m68k, sh4, sparc64, x32]

KTorrent library for C++ / Qt 5 / KDE Frameworks

dep:

libkf5wallet-bin [not sparc64]

Secure and unified container for user passwords.

dep:

libkf5wallet5 (>= 5.83.0~) [not sparc64]

Secure and unified container for user passwords.

dep:

libkf5widgetsaddons5 (>= 5.83.0~) [not sparc64]

add-on widgets and classes for applications that use the Qt Widgets module

dep:

libkf5windowsystem5 (>= 5.83.0~) [not sparc64]

Convenience access to certain properties and features of the window manager

dep:

libkf5xmlgui5 (>= 5.83.0~) [not sparc64]

User configurable main windows.

dep:

libkio5 (>= 4:4.4.95) [sparc64]

Package not available

dep:

libknotifyconfig4 (>= 4:4.3.4) [sparc64]

Package not available

dep:

libkparts4 (>= 4:4.5.85) [sparc64]

Package not available

dep:

libkworkspace5-5 (>= 4:5.8.1) [not sparc64]

Plasma Workspace for KF5 library

dep:

libmms0 (>= 0.4)

MMS stream protocol library - shared library

dep:

libqca-qt5-2 (>= 2.1.0~) [not sparc64]

libraries for the Qt Cryptographic Architecture

dep:

libqca2 (>= 2.0.2) [sparc64]

Package not available

dep:

libqgpgme15 (>= 1.17.1) [alpha, hppa, sh4]

library for GPGME integration with Qt

dep:

libqgpgme15 (>= 1.18.0) [not alpha, hppa, m68k, sh4, sparc64, x32]

dep:

libqgpgme7 (>= 1.14.0) [x32]

library for GPGME integration with Qt

dep:

libqgpgme7 (>= 1.16.0) [m68k]

dep:

libqt4-dbus (>= 4:4.5.3) [sparc64]

Package not available

dep:

libqt4-network (>= 4:4.5.3) [sparc64]

Package not available

dep:

libqt4-sql (>= 4:4.5.3) [sparc64]

Package not available

dep:

libqt4-xml (>= 4:4.5.3) [sparc64]

Package not available

dep:

libqt5core5a (>= 5.15.1) [not sparc64]

Qt 5 core module

dep:

libqt5dbus5 (>= 5.15.0~) [not sparc64]

Qt 5 D-Bus module

dep:

libqt5gui5 (>= 5.15.0~) [not sparc64]

Qt 5 GUI module

or libqt5gui5-gles (>= 5.15.0~)

Qt 5 GUI module — OpenGL ES variant

dep:

libqt5network5 (>= 5.15.0~) [not sparc64]

Qt 5 network module

dep:

libqt5sql5 (>= 5.15.0~) [not sparc64]

Qt 5 SQL module

dep:

libqt5widgets5 (>= 5.15.0~) [not sparc64]

Qt 5 widgets module

dep:

libqt5xml5 (>= 5.15.0~) [not sparc64]

Qt 5 XML module

dep:

libqtcore4 (>= 4:4.8.6) [sparc64]

Package not available

dep:

libqtgui4 (>= 4:4.8.0) [sparc64]

Package not available

dep:

libsolid4 (>= 4:4.3.4) [sparc64]

Package not available

dep:

libstdc++6 (>= 5) [sparc64]

GNU Standard C++ Library v3

dep:

libstdc++6 (>= 5.2) [not sparc64]

dep:

perl [sparc64]

Larry Wall's Practical Extraction and Report Language
Download kget
Download for all available architectures

| Architecture | Version | Package Size | Installed Size | Files |
| --- | --- | --- | --- | --- |
| alpha (unofficial port) | 4:21.12.3-1+b1 | 5,672.1 kB | 12,717.0 kB | [list of files] |
| amd64 | 4:21.12.3-1+b2 | 5,676.6 kB | 11,519.0 kB | [list of files] |
| arm64 | 4:21.12.3-1+b2 | 5,609.5 kB | 11,971.0 kB | [list of files] |
| armel | 4:21.12.3-1+b2 | 5,540.6 kB | 11,379.0 kB | [list of files] |
| armhf | 4:21.12.3-1+b2 | 5,559.8 kB | 10,867.0 kB | [list of files] |
| hppa (unofficial port) | 4:21.12.3-1+b1 | 5,712.0 kB | 11,988.0 kB | [list of files] |
| i386 | 4:21.12.3-1+b2 | 5,747.0 kB | 11,443.0 kB | [list of files] |
| m68k (unofficial port) | 4:21.12.3-1 | 5,692.1 kB | 11,469.0 kB | [list of files] |
| mips64el | 4:21.12.3-1+b2 | 5,591.4 kB | 12,580.0 kB | [list of files] |
| mipsel | 4:21.12.3-1+b2 | 5,598.7 kB | 12,325.0 kB | [list of files] |
| ppc64 (unofficial port) | 4:21.12.3-1+b2 | 5,679.7 kB | 13,123.0 kB | [list of files] |
| ppc64el | 4:21.12.3-1+b2 | 5,676.7 kB | 12,739.0 kB | [list of files] |
| riscv64 (unofficial port) | 4:21.12.3-1+b2 | 5,606.0 kB | 10,970.0 kB | [list of files] |
| s390x | 4:21.12.3-1+b2 | 5,587.3 kB | 11,651.0 kB | [list of files] |
| sh4 (unofficial port) | 4:21.12.3-1+b1 | 5,782.8 kB | 11,720.0 kB | [list of files] |
| sparc64 (unofficial port) | 4:17.08.3-1 | 1,133.9 kB | 3,205.0 kB | [list of files] |
| x32 (unofficial port) | 4:21.12.3-1 | 5,688.7 kB | 11,201.0 kB | [list of files] |