Package: gobby (0.6.0-1)
Links for gobby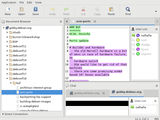 Debian Resources:
Download Source Package gobby:
Maintainer:
External Resources:
Similar packages:
infinote-based collaborative text editor
Gobby is an editor which allows one to edit text documents and source files collaboratively over a network. All users could work on the file simultaneously without the need to lock it. The parts the various users write are highlighted in different colours and it supports syntax highlighting of various programming and markup languages.
Gobby is portable to both Windows and Unix-like platforms and makes use of the Gtk+ toolkit. A dedicated server is available in the infinoted package.
Other Packages Related to gobby
simple configuration storage system - GSettings back-end
virtual package provided by dconf-gsettings-backend, gconf-gsettings-backend

dep:

libatk1.0-0 (>= 1.12.4) [hppa, m68k, sh4, sparc64]

ATK accessibility toolkit

dep:

libatkmm-1.6-1v5 (>= 2.24.0)

C++ wrappers for ATK accessibility toolkit (shared libraries)

dep:

libc6 (>= 2.27) [riscv64]

GNU C Library: Shared libraries
also a virtual package provided by libc6-udeb

dep:

libc6 (>= 2.29) [not alpha, ia64, riscv64, sh4]

dep:

libc6 (>= 2.31) [sh4]

dep:

libc6.1 (>= 2.29) [alpha]

GNU C Library: Shared libraries
also a virtual package provided by libc6.1-udeb

dep:

libc6.1 (>= 2.31) [ia64]

dep:

libcairo-gobject2 (>= 1.10.0) [hppa, m68k, sh4, sparc64]

Cairo 2D vector graphics library (GObject library)

dep:

libcairo2 (>= 1.2.4) [hppa, m68k, sh4, sparc64]

Cairo 2D vector graphics library

dep:

libcairomm-1.0-1v5 (>= 1.12.0) [hppa, m68k, sh4, sparc64]

C++ wrappers for Cairo (shared libraries)

dep:

libgcc-s1 (>= 3.0) [not armel, armhf, hppa, ia64, m68k]

GCC support library

dep:

libgcc-s1 (>= 3.5) [armel, armhf]

dep:

libgcc-s1 (>= 4.2) [ia64]

dep:

libgcc-s2 (>= 4.2.1) [m68k]

GCC support library

dep:

libgcc-s4 (>= 4.1.1) [hppa]

GCC support library

dep:

libgdk-pixbuf-2.0-0 (>= 2.22.0) [hppa, m68k, sh4, sparc64]

GDK Pixbuf library

dep:

libglib2.0-0 (>= 2.39.90)

GLib library of C routines

dep:

libglibmm-2.4-1v5 (>= 2.64.2)

C++ wrapper for the GLib toolkit (shared libraries)

dep:

libgnutls30 (>= 3.6.12) [alpha, ia64]

GNU TLS library - main runtime library

dep:

libgnutls30 (>= 3.7.0) [not alpha, ia64]

dep:

libgsasl7 (>= 1.1) [hppa, m68k, sh4, sparc64]

Package not available

dep:

libgtk-3-0 (>= 3.16.2)

GTK graphical user interface library

dep:

libgtkmm-3.0-1v5 (>= 3.24.0)

C++ wrappers for GTK+ (shared libraries)

dep:

libgtksourceview-3.0-1 (>= 2.91.4)

shared libraries for the GTK+ syntax highlighting widget

dep:

libharfbuzz0b (>= 0.6.0) [hppa, m68k, sh4, sparc64]

OpenType text shaping engine (shared library)

dep:

libinfgtk-0.7-0 (>= 0.7.1)

infinote-based collaborative editing (Gtk widgets)

dep:

libinfinity-0.7-0 (>= 0.7.1)

infinote-based collaborative editing

dep:

libpango-1.0-0 (>= 1.14.0) [hppa, m68k, sh4, sparc64]

Layout and rendering of internationalized text

dep:

libpangocairo-1.0-0 (>= 1.14.0) [hppa, m68k, sh4, sparc64]

Layout and rendering of internationalized text

dep:

libpangomm-1.4-1v5 (>= 2.42.0)

C++ Wrapper for pango (shared libraries)

dep:

libsigc++-2.0-0v5 (>= 2.8.0)

type-safe Signal Framework for C++ - runtime

dep:

libstdc++6 (>= 5.2)

GNU Standard C++ Library v3

dep:

libunwind8 [ia64]

library to determine the call-chain of a program - runtime

dep:

libxml++2.6-2v5 (>= 2.40.0)

C++ interface to the GNOME XML library (libxml2)

dep:

libxml2 (>= 2.6.27) [hppa, m68k, sh4, sparc64]

GNOME XML library
Download gobby
Download for all available architectures

| Architecture | Package Size | Installed Size | Files |
| --- | --- | --- | --- |
| alpha (unofficial port) | 577.2 kB | 2,508.0 kB | [list of files] |
| amd64 | 597.6 kB | 2,322.0 kB | [list of files] |
| arm64 | 560.3 kB | 2,279.0 kB | [list of files] |
| armel | 535.9 kB | 1,787.0 kB | [list of files] |
| armhf | 543.0 kB | 1,603.0 kB | [list of files] |
| hppa (unofficial port) | 541.0 kB | 1,785.0 kB | [list of files] |
| i386 | 620.9 kB | 2,001.0 kB | [list of files] |
| ia64 (unofficial port) | 619.6 kB | 3,287.0 kB | [list of files] |
| m68k (unofficial port) | 530.5 kB | 1,801.0 kB | [list of files] |
| mips64el | 567.1 kB | 2,595.0 kB | [list of files] |
| mipsel | 573.9 kB | 2,310.0 kB | [list of files] |
| ppc64 (unofficial port) | 582.0 kB | 2,712.0 kB | [list of files] |
| ppc64el | 585.1 kB | 2,566.0 kB | [list of files] |
| riscv64 (unofficial port) | 574.4 kB | 2,170.0 kB | [list of files] |
| s390x | 556.9 kB | 2,358.0 kB | [list of files] |
| sh4 (unofficial port) | 555.2 kB | 1,721.0 kB | [list of files] |
| sparc64 (unofficial port) | 522.1 kB | 2,289.0 kB | [list of files] |
| x32 (unofficial port) | 558.8 kB | 1,746.0 kB | [list of files] |