Package: munipack-gui (0.5.11-2.1 and others)
Links for munipack-gui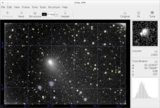 Debian Resources:
Download Source Package munipack:
Maintainers:
External Resources:
Similar packages:
Graphical user interface of Munipack
Munipack is a general astronomical photometry software package. Currently implements functions for standard photometry processing (photometry reductions - dark, flat), aperture photometry, astrometry and photometry calibration, accessing Virtual observatory, etc.
This package provides "xmunipack" command which offers graphical user interface for Munipack.
Other Packages Related to munipack-gui
sug:

rawtran

RAW photo to FITS converter
Download munipack-gui
Download for all available architectures

| Architecture | Version | Package Size | Installed Size | Files |
| --- | --- | --- | --- | --- |
| alpha (unofficial port) | 0.5.11-2.1 | 894.1 kB | 3,486.0 kB | [list of files] |
| amd64 | 0.5.11-2.1 | 952.4 kB | 2,983.0 kB | [list of files] |
| arm64 | 0.5.11-2.1 | 833.5 kB | 2,747.0 kB | [list of files] |
| armel | 0.5.11-2.1 | 823.4 kB | 2,326.0 kB | [list of files] |
| armhf | 0.5.11-2.1 | 842.6 kB | 1,826.0 kB | [list of files] |
| hppa (unofficial port) | 0.5.11-2.1 | 867.9 kB | 2,596.0 kB | [list of files] |
| i386 | 0.5.11-2.1 | 981.1 kB | 2,818.0 kB | [list of files] |
| m68k (unofficial port) | 0.5.11-2.1 | 923.5 kB | 2,762.0 kB | [list of files] |
| mips64el | 0.5.11-2.1 | 800.9 kB | 3,638.0 kB | [list of files] |
| mipsel | 0.5.11-2.1 | 807.5 kB | 3,138.0 kB | [list of files] |
| powerpcspe (unofficial port) | 0.5.10-2+b1 | 795.2 kB | 2,498.0 kB | [list of files] |
| ppc64 (unofficial port) | 0.5.11-2.1 | 895.7 kB | 3,587.0 kB | [list of files] |
| ppc64el | 0.5.11-2.1 | 909.9 kB | 3,331.0 kB | [list of files] |
| riscv64 (unofficial port) | 0.5.11-2.1 | 886.6 kB | 2,447.0 kB | [list of files] |
| s390x | 0.5.11-2.1 | 854.5 kB | 2,939.0 kB | [list of files] |
| sh4 (unofficial port) | 0.5.10-2+b1 | 989.9 kB | 2,364.0 kB | [list of files] |
| sparc64 (unofficial port) | 0.5.11-2.1 | 779.1 kB | 2,820.0 kB | [list of files] |
| x32 (unofficial port) | 0.5.11-2.1 | 960.8 kB | 2,602.0 kB | [list of files] |