Package: minbar (0.2.1-9) [debports]
Links for minbar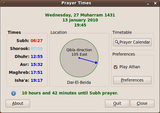 Debian Resources:
Download Source Package :
Not found
Maintainers:
External Resources:
Similar packages:
GNOME Islamic prayer times application
Minbar is an Islamic prayer times application on top of libitl, the Arabeyes prayer calculation library.
It runs in background as a tray icon, plays the 'athan' (call to prayer) and notifies at prayer times.
Minbar works with the main calculation methods (Muslim League by default, Shafii, Hanafi, ...).
This package provides the minbar binary.
Other Packages Related to minbar
dep:

gconf-service

GNOME configuration database system (D-Bus service)

dep:

libc6 (>= 2.7)

GNU C Library: Shared libraries
also a virtual package provided by libc6-udeb

dep:

libgconf-2-4 (>= 3.2.5)

GNOME configuration database system (shared libraries)

dep:

libglade2-0 (>= 1:2.6.4-2~)

library to load .glade files at runtime

dep:

libglib2.0-0 (>= 2.12.0)

GLib library of C routines

dep:

libgnomecanvas2-0 (>= 2.11.1)

powerful object-oriented display engine - runtime files

dep:

libgstreamer0.10-0 (>= 0.10.0)

Core GStreamer libraries and elements

dep:

libgtk2.0-0 (>= 2.10.0)

GTK+ graphical user interface library

dep:

libitl0

Islamic tools & libraries project - shared library

dep:

libnotify4 (>= 0.7.0)

sends desktop notifications to a notification daemon

dep:

libxml2 (>= 2.7.4)

GNOME XML library

dep:

minbar-data

Package not available
rec:

islamic-menus

Islamic menu categories for applications under GNOME and KDE
Download minbar
Download for all available architectures

| Architecture | Package Size | Installed Size | Files |
| --- | --- | --- | --- |
| m68k (unofficial port) | 22.9 kB | 61.0 kB | [list of files] |